Dear Beach Homeowners,
We are looking for more beach homeowners to join Waves of Grace, a 501c3 nonprofit organization that provides an all expenses paid beach vacation to cancer patients and their families. We have successfully partnered with five beach homes in St. George Island, Miramar Beach, Panama City Beach, Crystal Beach, and Seaside. We have provided over 70 families affected by cancer a beach vacation. We have more families booked and are communicating with several others. We are growing and couldn't be happier! The feedback we've gotten from our recipients has been motivation for us to reach out for more donations, find new beach homeowners willing to share their beach home, and to spread the word about what our organization is doing for these families that need a break from cancer. We are bringing them to a beautiful place to not only rest and relax but to heal and renew their mind and body. We're taking them away from doctors, hospitals, and treatment and bringing them to a quiet, peaceful place to meet Jesus, to feel His presence, and to restore hope that often gets lost in the midst of a cancer diagnosis. We take care of travel (gas or flights), rental car if needed, food, entertainment funds, professional beach photos if they choose, and anything else they may need medically while on vacation.
You may donate one week out of the year or twenty! It's completely up you! We do not have a contract with our homeowners. We simply contact them, check their availability, and book a family's vacation. Our recipients sign a waiver for Waves of Grace and a property agreement with our beach homeowners. This agreement provides property rules and details, community rules, arrival/departure specifics, etc. The cleaning fee is covered by Waves of Grace. We try to make it as stress free as possible for the family traveling and the beach homeowner (we will even arrange key pick up/drop off). If you have any questions, our beach homeowners can tell you about their experience working with our organization.
We love what The Lord is doing through Waves of Grace. I saw first hand how cancer affects the entire family. I saw what the beach did to my mother's spirits while fighting cancer. She said she felt the closest to God at the beach. We've seen the impact it's had on our recipient families and know there are so many other families who could benefit from a week of rest, relaxation, and Jesus! Thank you for your consideration. Feel free to contact us if you'd like to donate time at your beach home or if you have any questions!
Grace, Peace, and Hope,
Jennifer & Mike Matwijec
share your beach property
fill out the form below

beach rental properties
book a vacation with one of our amazing partners

3 Bedroom, 3 Bath condo steps from the Beach
Seacrest, FL
Our Waterhouse condo is designed for comfort and convenience. Our unit is a luxurious three-bedroom, three bath condo featuring a deluxe master suite with a jetted soaking tub, a gourmet kitchen, two guest bedrooms, oversized furnishings, expansive windows to beautiful views, and more. After a day of activity, your WaterHouse home is the perfect setting to relax and breathe in the scented breezes and watch as the sun paints the sky by the rooftop pool. Enjoy grilling out on one of the two grills for our guests. There is private deeded beach access 100 yards from our door!
2 Bedroom 2 Bath Condo On The Gulf Of Mexico
Gulf Shores, AL
Secrets at Spyglass ocean front condominium. Close to everything that you could want in Gulf Shores. Newly updated 2br/2ba unit. You are steps from the beautiful white sandy beach and the Gulf of Mexico. The complex is an 11 unit building located in two stories, Secrets is a one story unit located in the center of the building.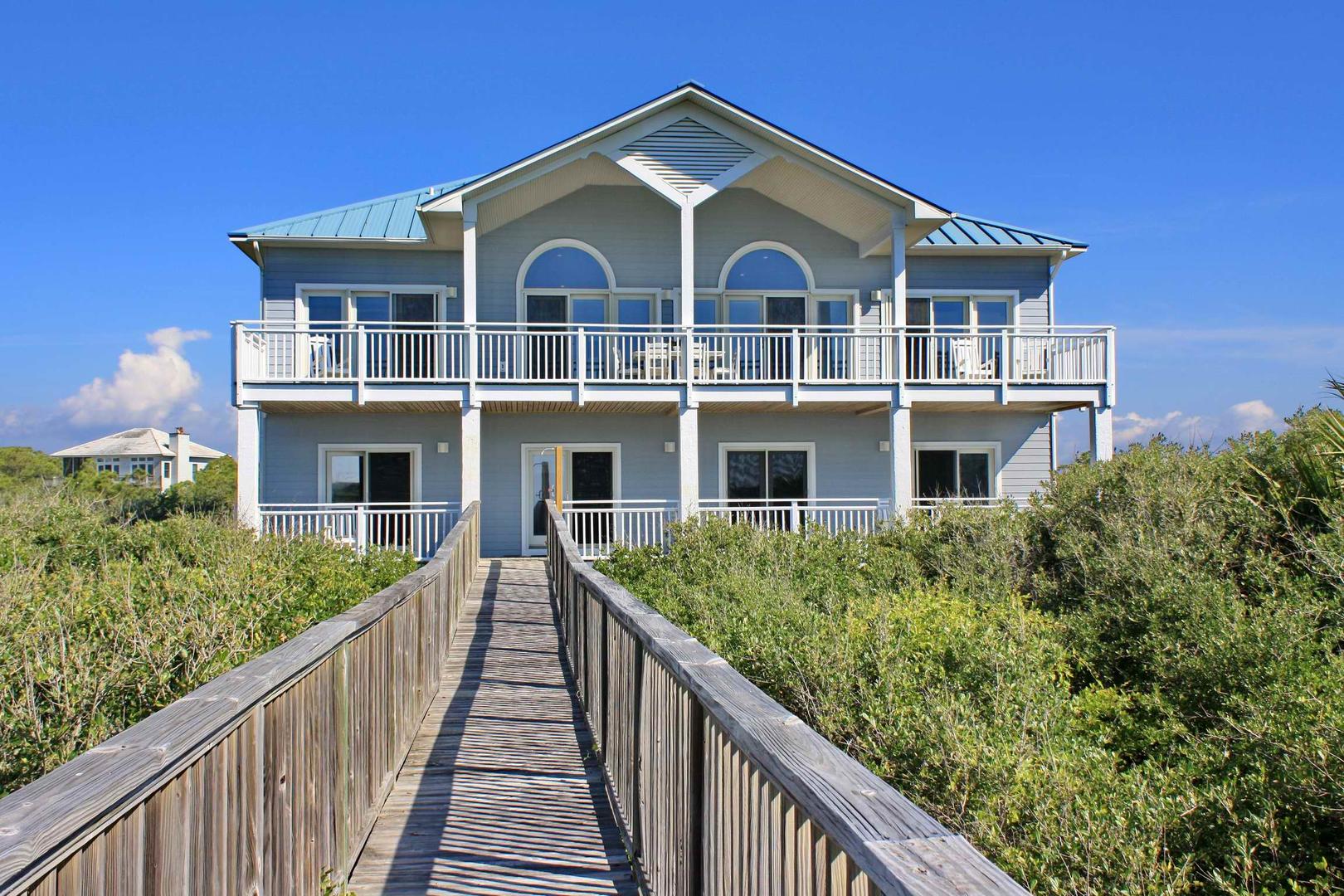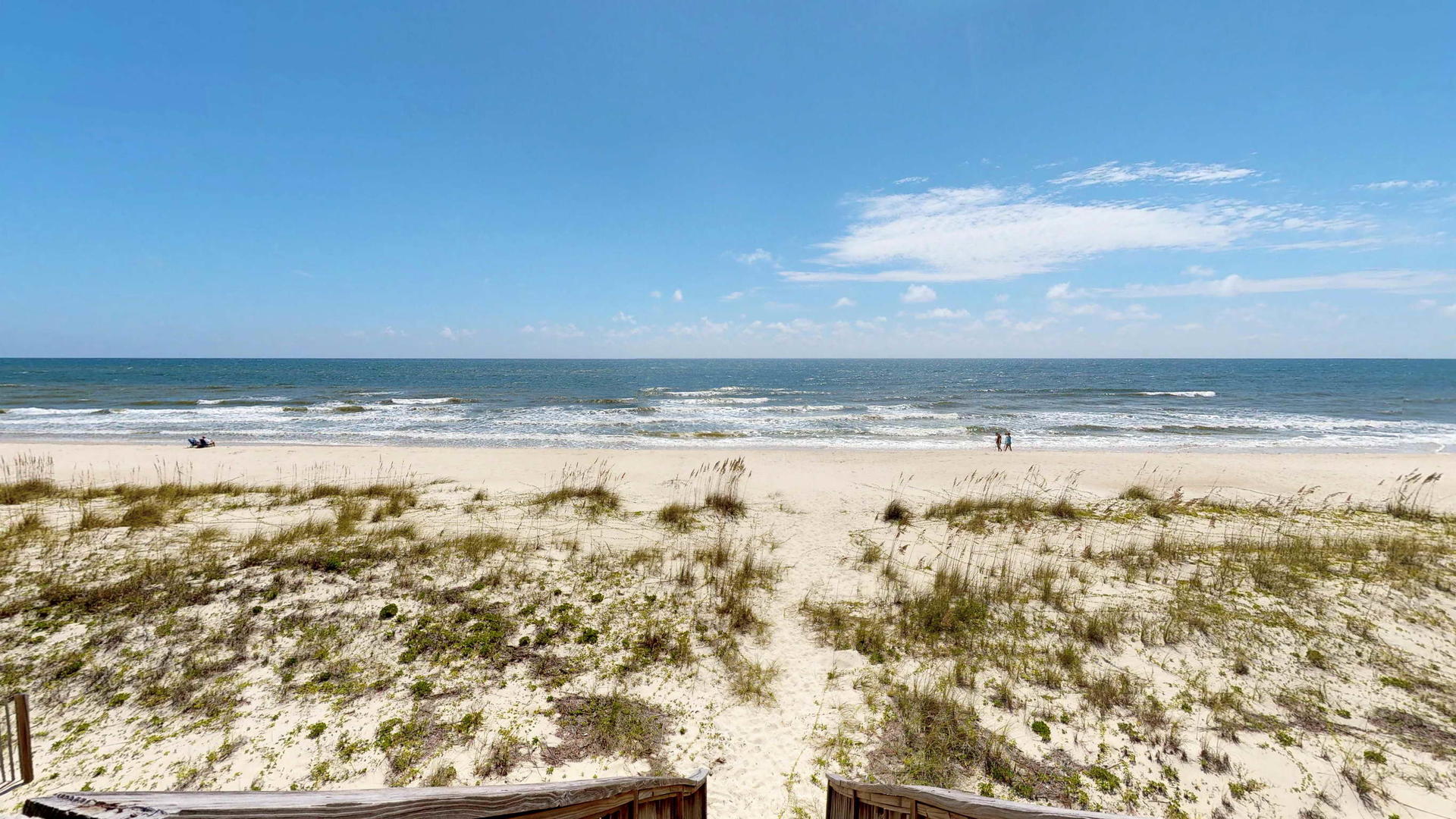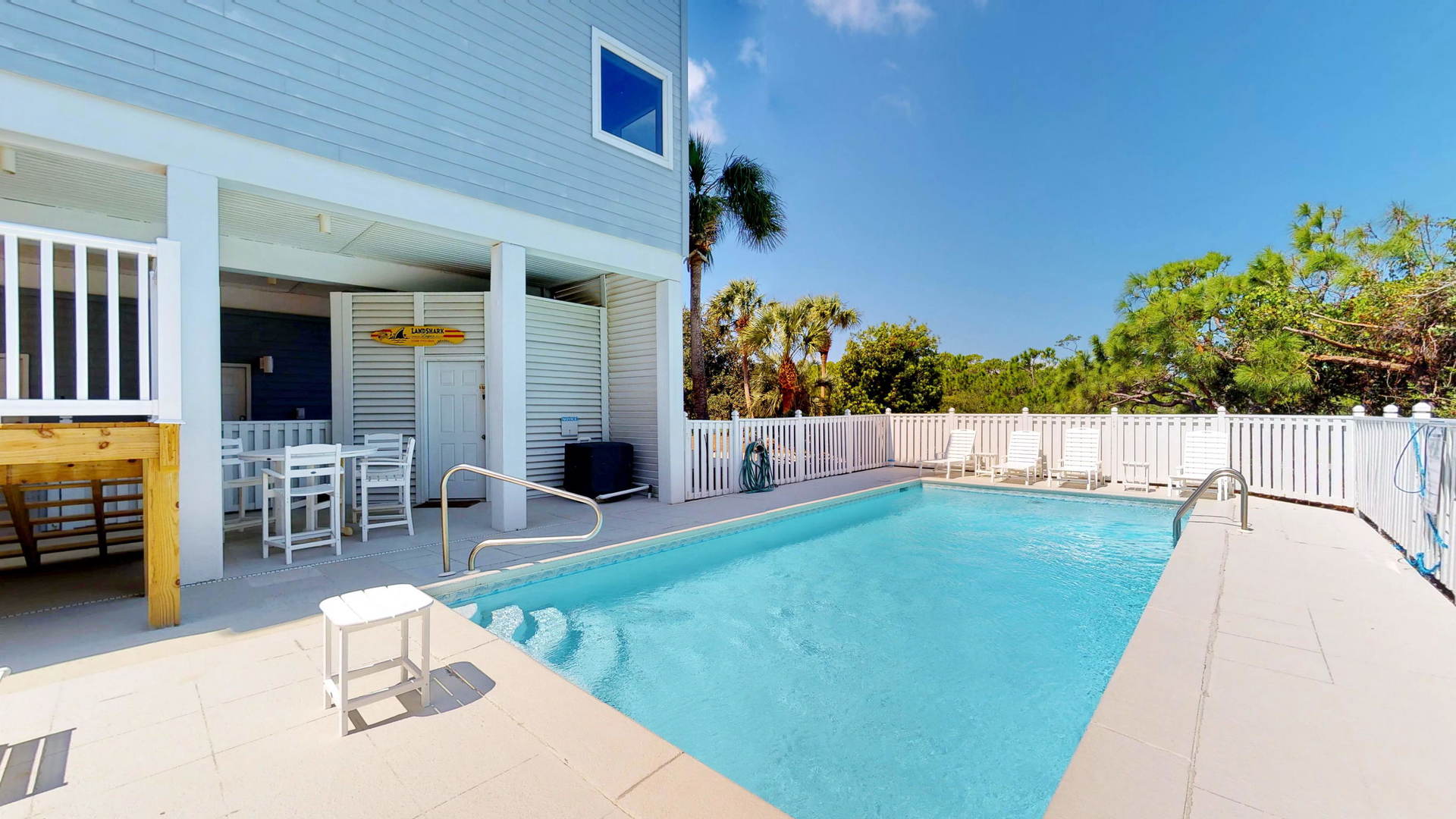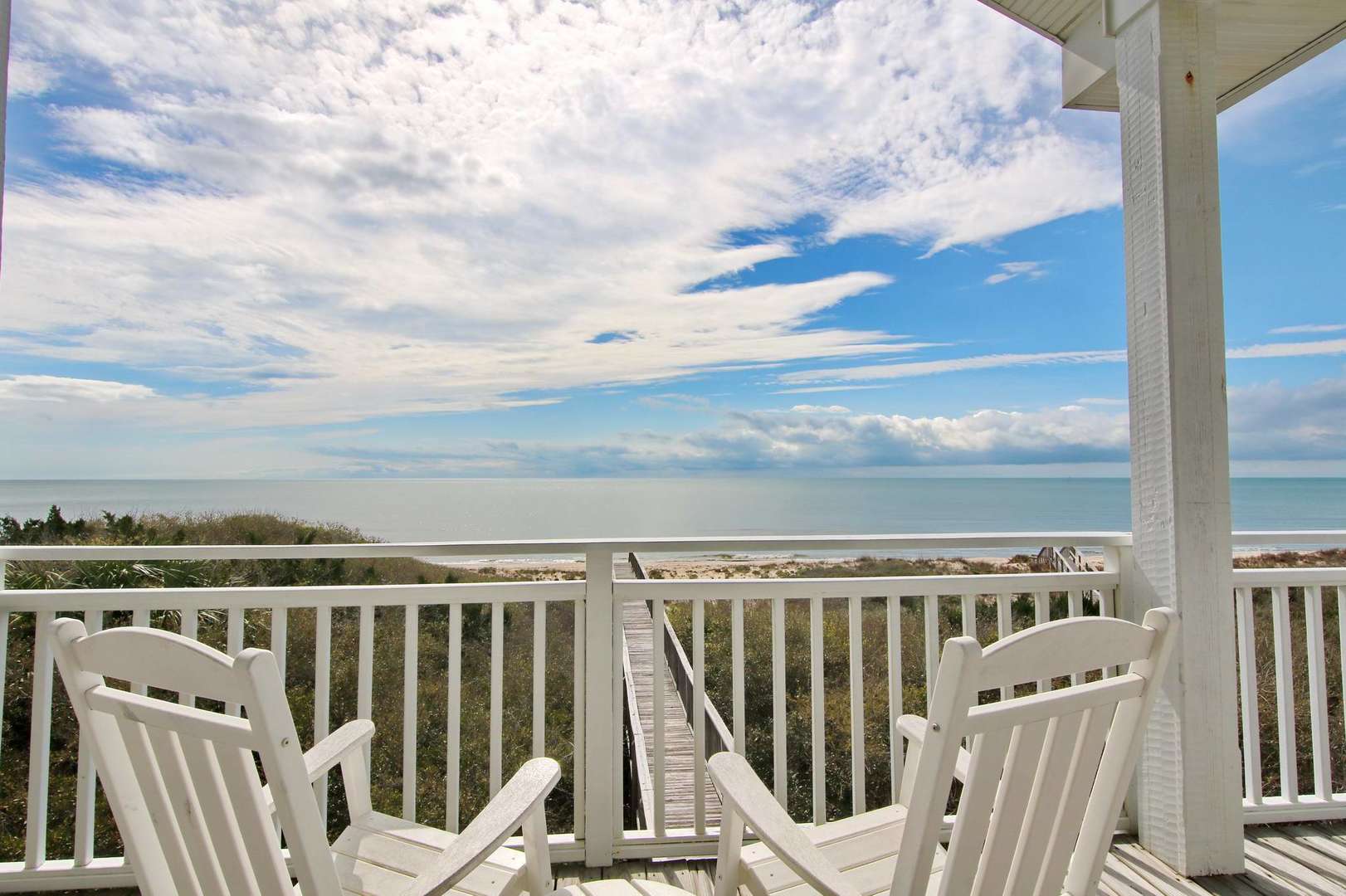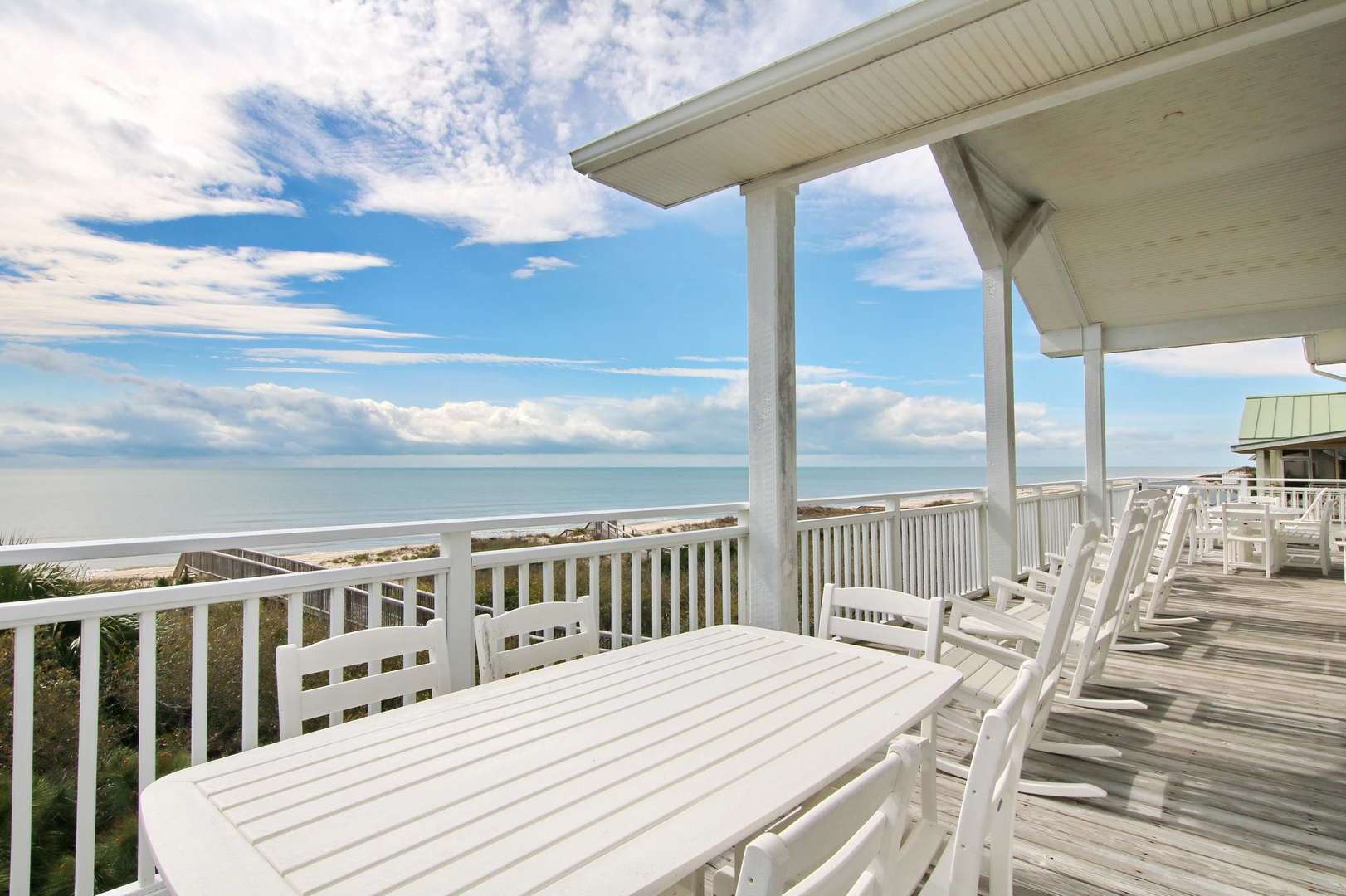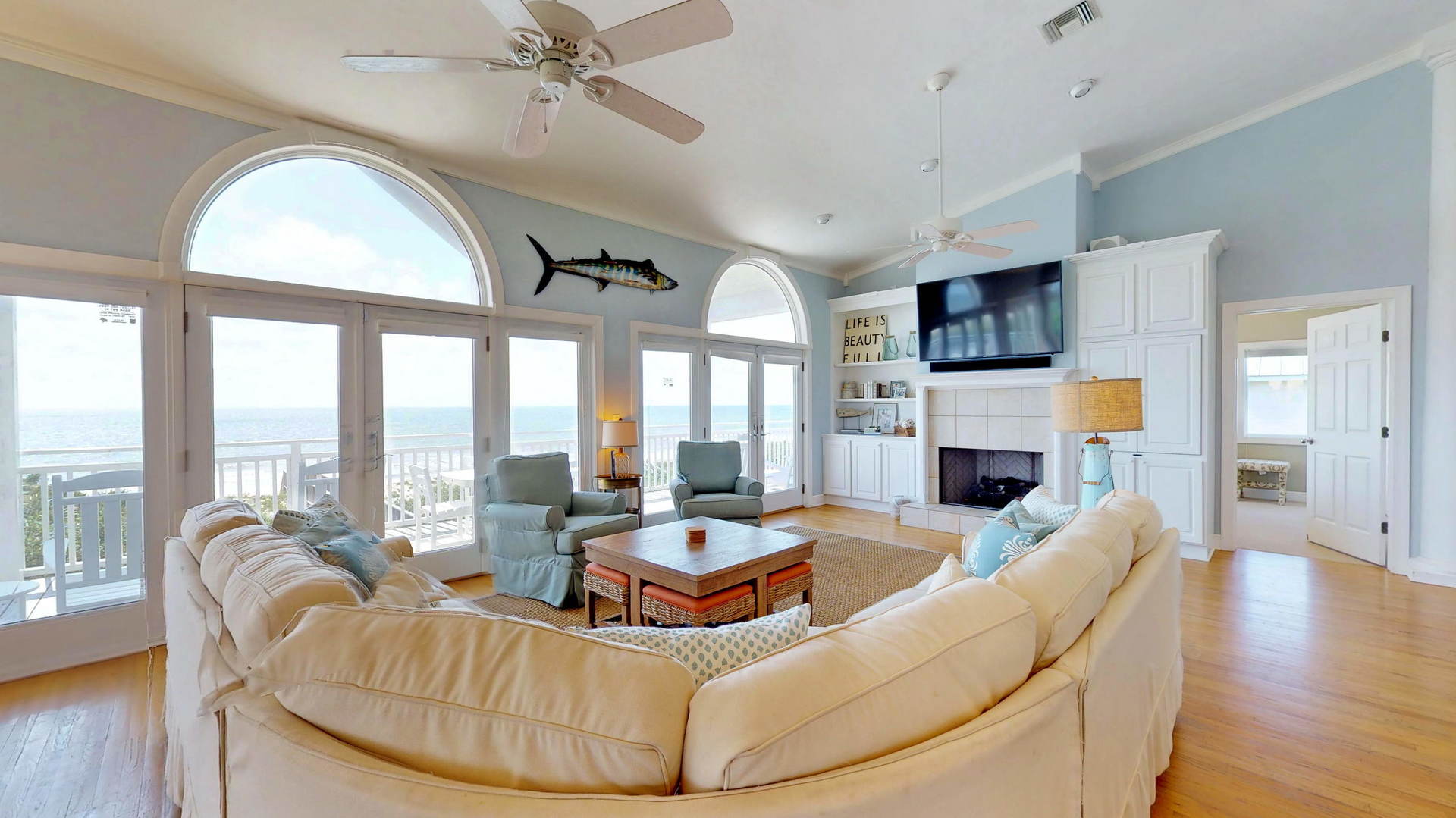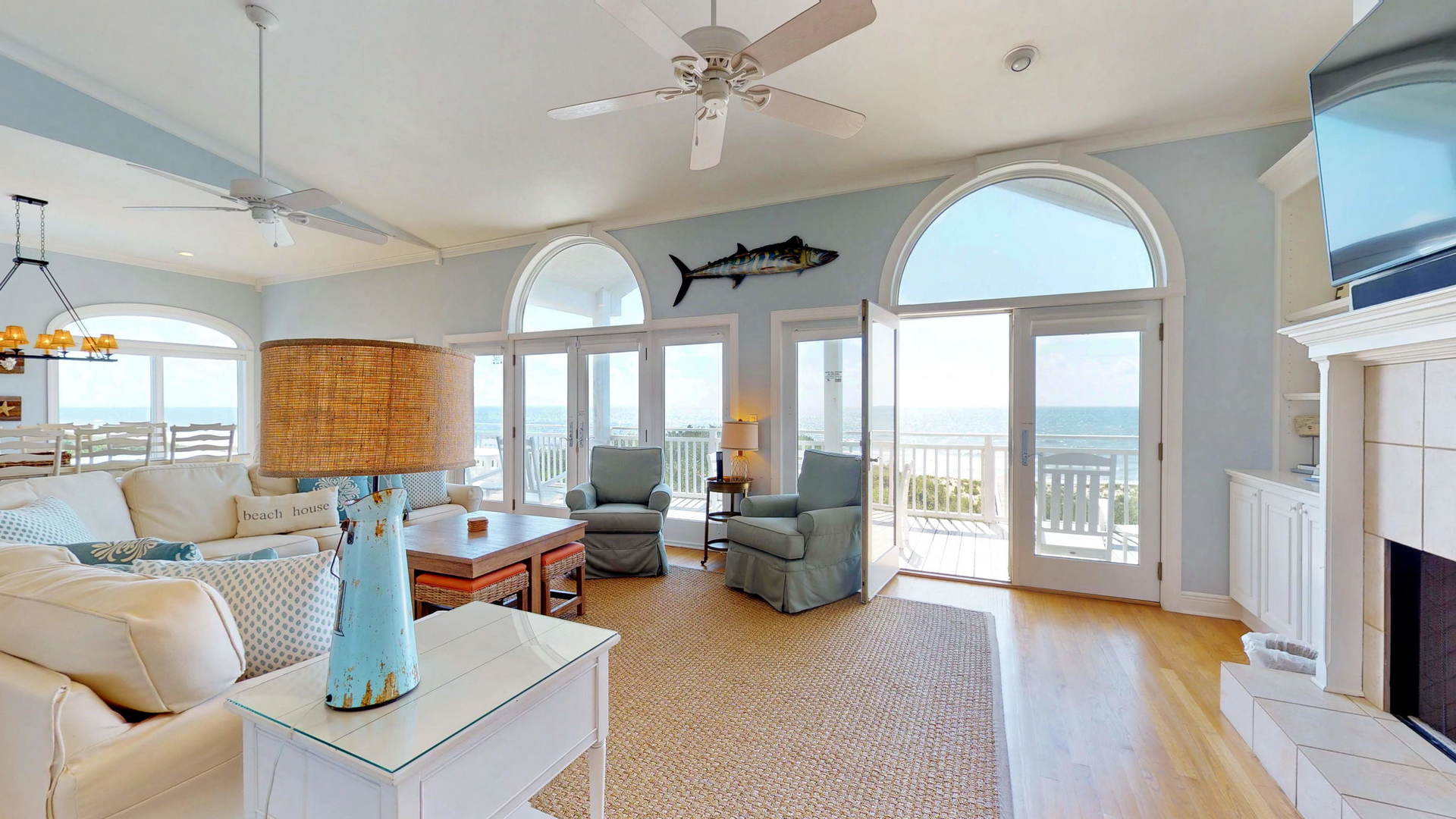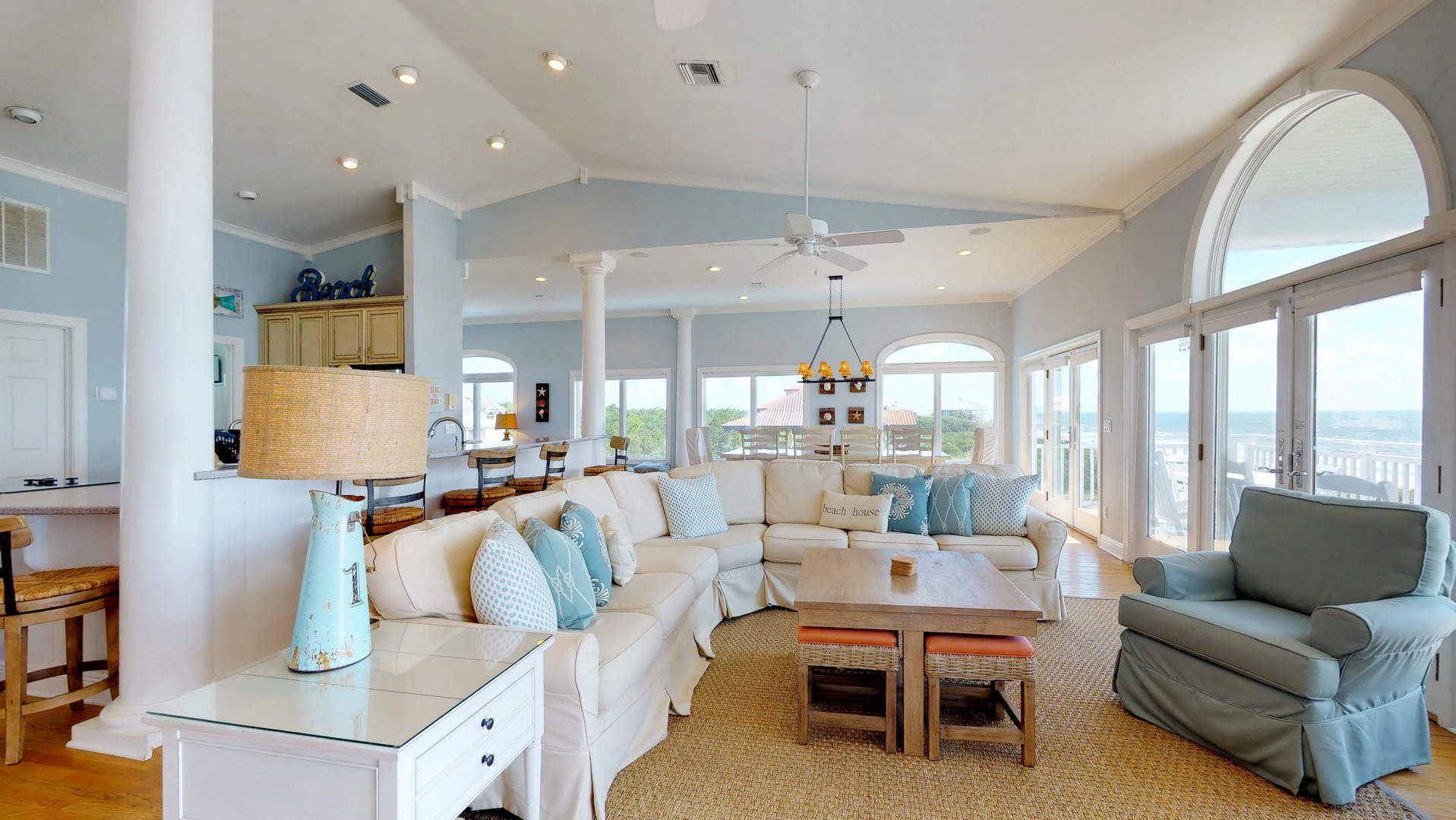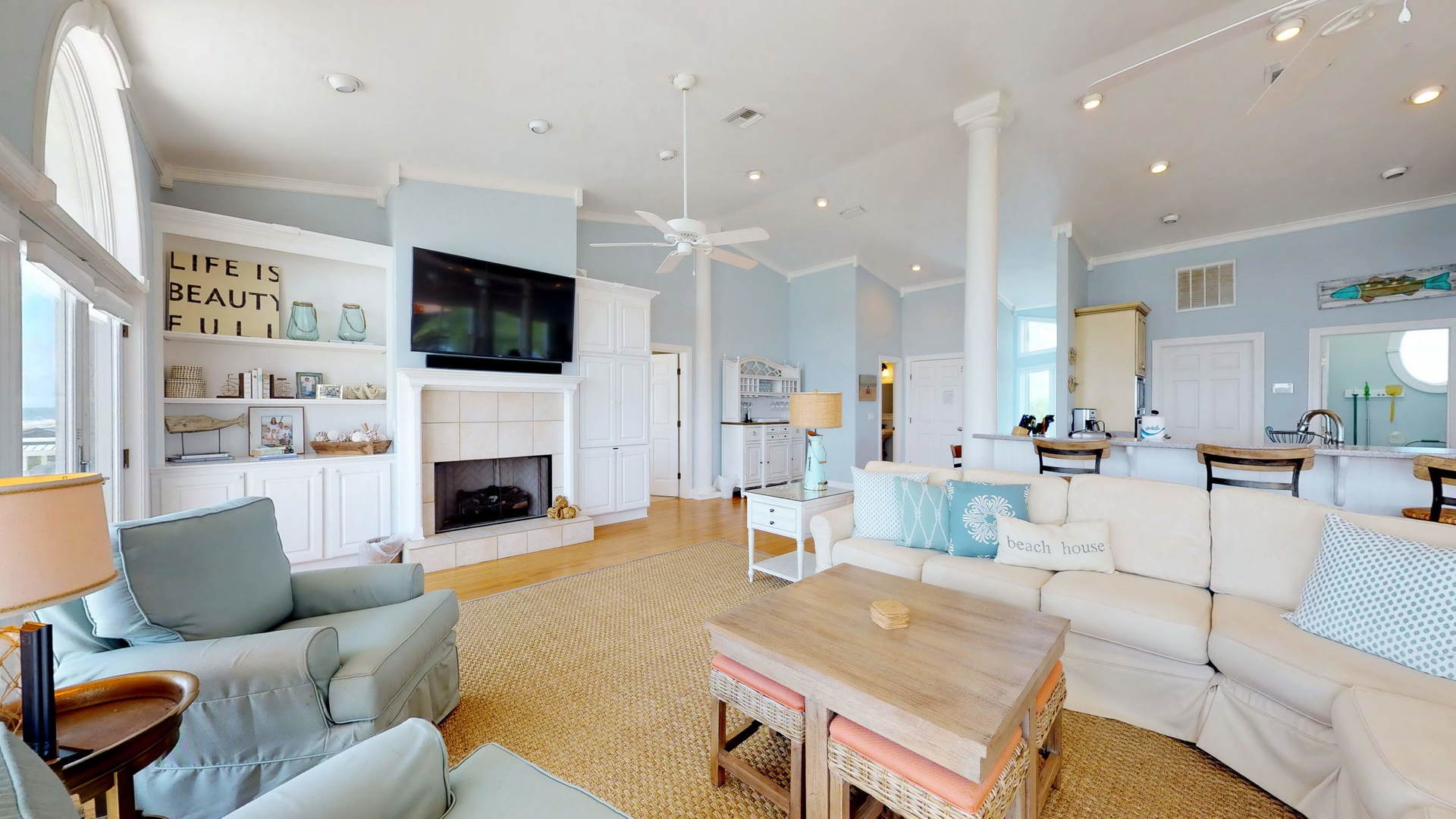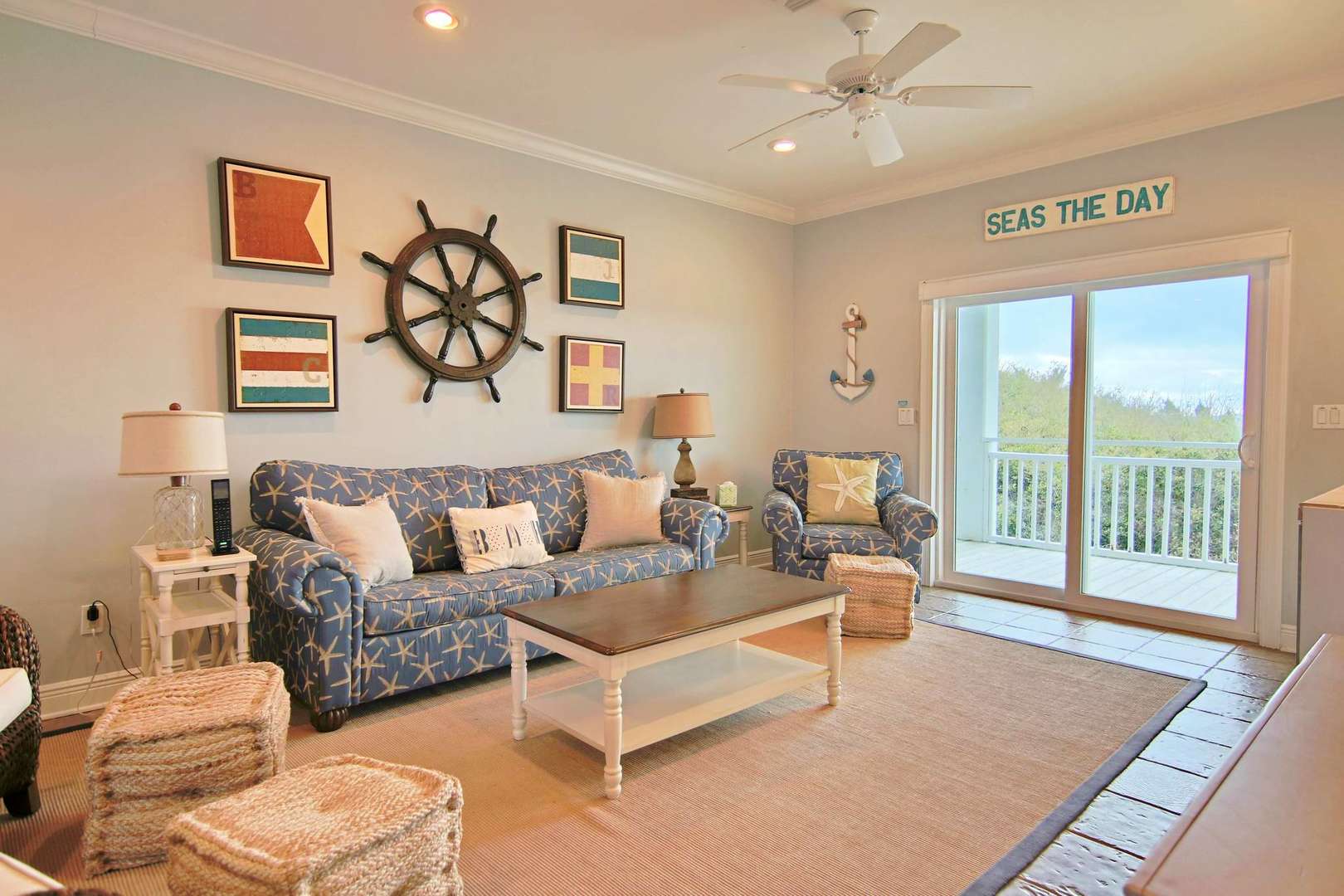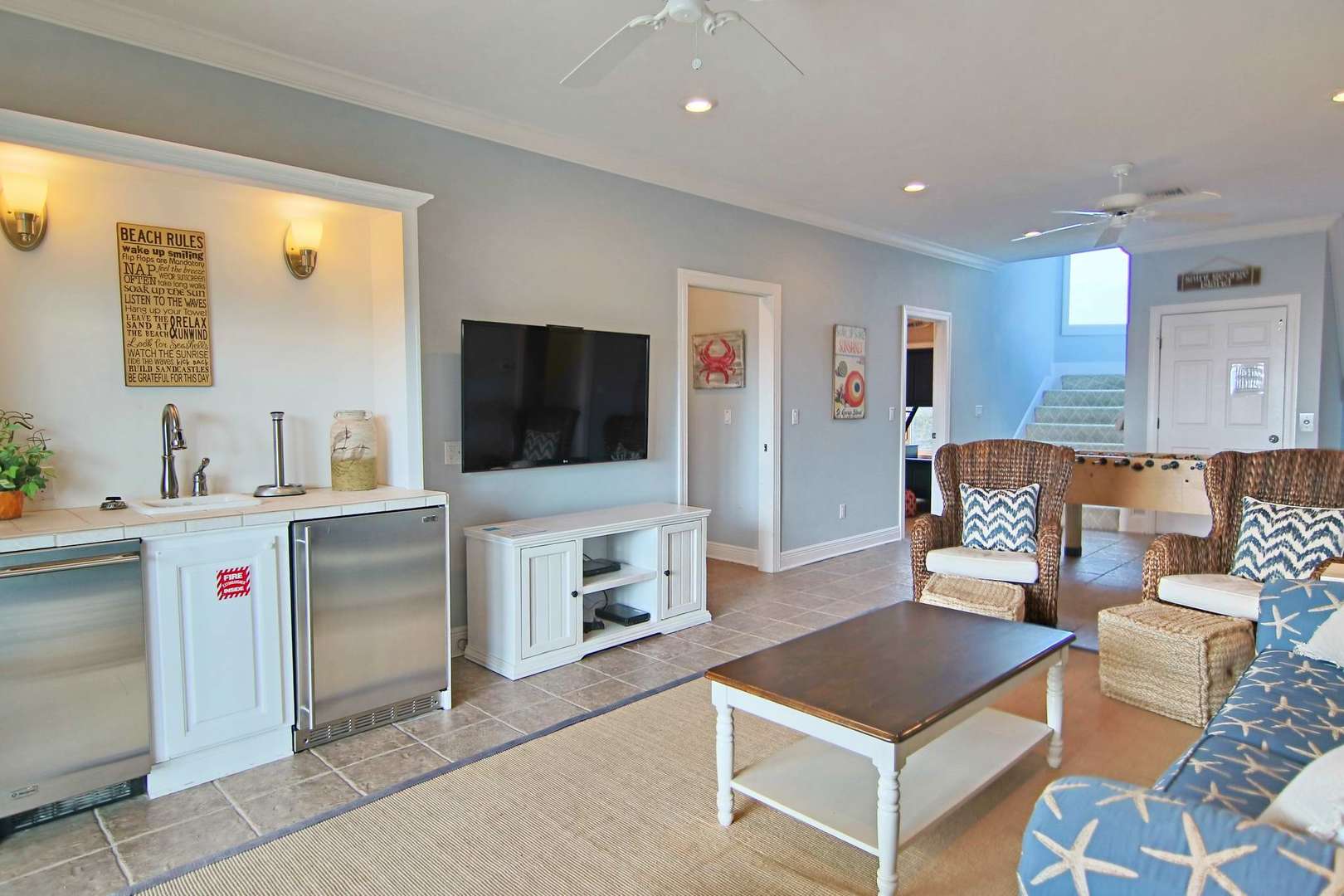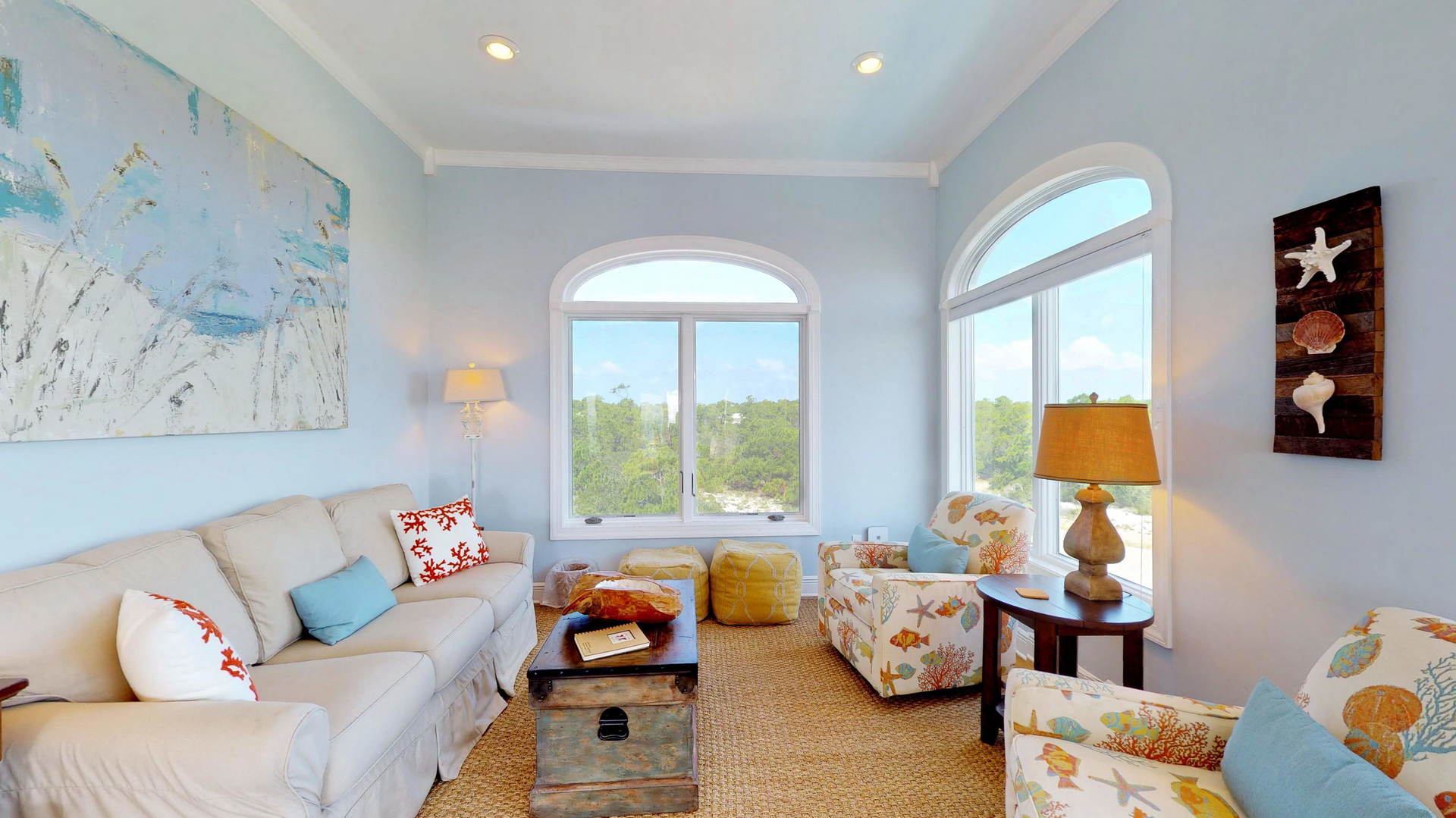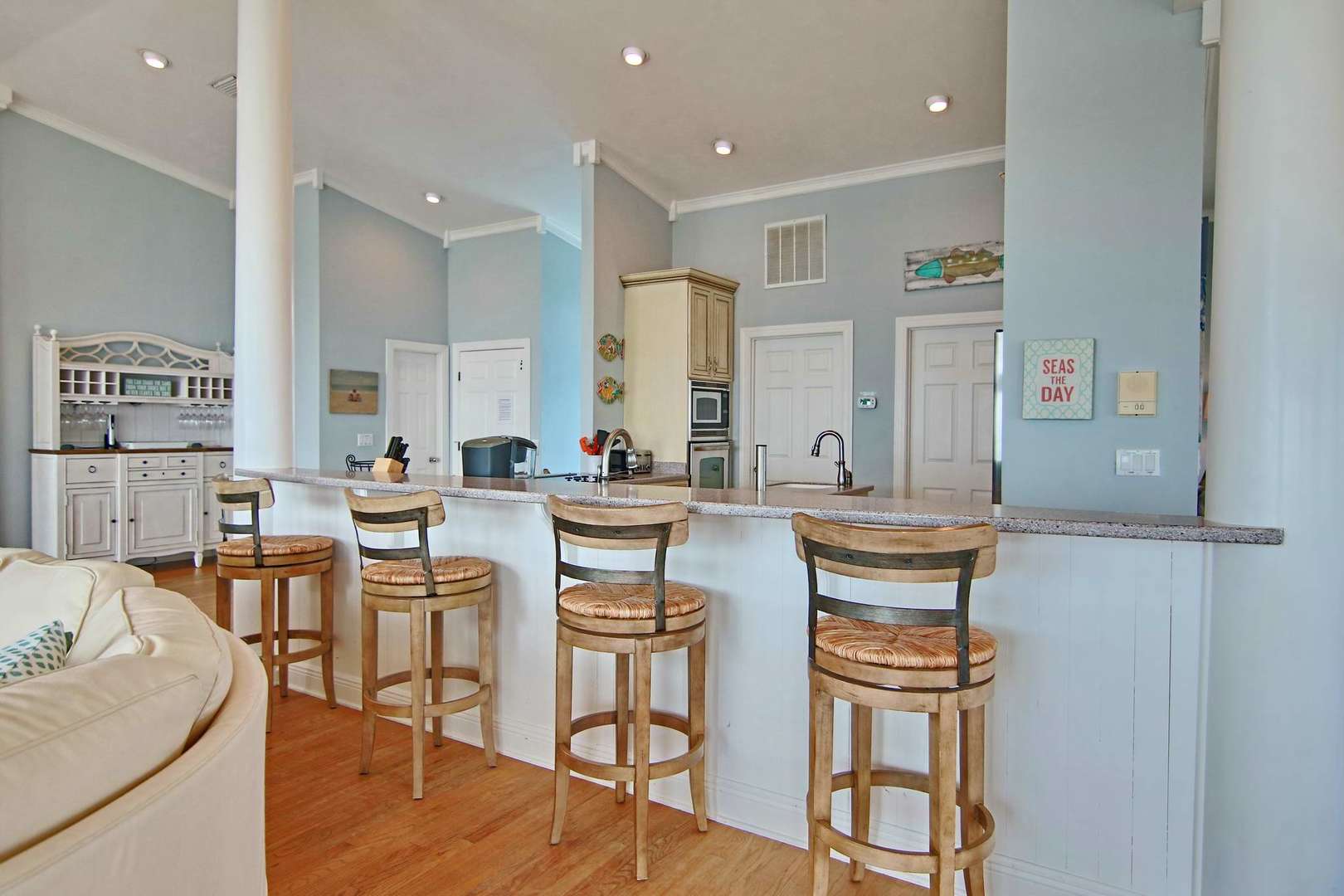 5 Bedroom 4.5 Bath Land Yacht
St. George Island, FL
Embrace the unmistakable luxury of this freshly renovated beachfront St. George Plantation home. Boasting all new furnishings, every detail was attended to in order to ensure guests' comfort and enjoyment, down to hairdryers in every bath. On the second level, a spacious living/dining/kitchen area opens to an expansive deck with access to covered seating and two areas to relax in the sunshine. A wide wall of windows allows the warm sunshine indoors and a gas fireplace is provided to warm the evenings when the air is cool. Stainless appliances and solid counters in the kitchen; vast counter space provides an abundance of room to create special family meals. A separate sitting area and master suite are also located on this level. Four bedrooms and a den with a foosball table can be found on the first level. Multiple TVs/DVD players, Wii with four games and DVD library. Two high chairs and a pack-n-play.
St.Thomas Ocean View Studio
Estate Smith Bay, St Thomas, USVI
SECRETS at SAPPHIRE! What's your secret? Shh! 'What happens in St. Thomas, Stays in St. Thomas!' Perfect for your affordable romantic get-a-way or your honeymoon. How about just a SECRET vacation? Join us! Stay where my family stays on St. Thomas. Our condo is located in the beautiful 'East End' of the island above Sapphire Beach. On top of the hill is Sapphire Village. We have the upper pool right out the front door, the lower pool, bar and restaurant, down the path, and of course, the beautiful sands of Sapphire Beach and teal Caribbean waters a short walk further.
Read More

SECRETS at SAPPHIRE is the perfect location because:
Desirable EAST end location near town of Red Hook
Close to the ferry dock to St. John and St, Croix, and the BVIs
Nice breezes blowing around the entire complex
Two onsite restaurant and beach bar
Walking distance to beach and marina
Two beautiful pools
Awesome picturesque snorkeling on Sapphire Beach
Under the U.S. flag! English speaking & US. Currency
Beautiful beaches
80 degrees average air AND swimming almost year round
Great snorkeling, sailing, diving, para-sailing, fishing and duty free shopping close by
Lots of beach and water sports available, through the Concierge located down at the beach
Gated/Guarded entrance for safety
*Pets are not permitted
*No smoking
Gulf Front Bliss with Ocean and Lake-Front Views on Quiet Beach
Sunnyside, FL
Gulf front, 2 King BR 2.5 Baths, sleeps 4-6, no extra fees!
Once you stay at Pinnacle Port (PP) resort, you'll want to come back again and again. Pinnacle Port is located away from it all mid-way between Destin and Panama City – at the quiet, western-most edge of Panama City Beach (near the eastern edge of the Beaches of South Walton on highway 30A ). Nestled between the unspoiled Saint Helen state park beach and the private beach-home community of Carillon, Pinnacle Port resort is protected to the north by the picturesque inlet lake (Lake Powell), making Pinnacle Port resort one of the most secluded and quietest ocean-front resorts on the Panhandle.
Read More

Our 2 BR, 2.5 BA home is on the ninth and tenth floor (townhome with two bedrooms upstairs), at the far end of the best wing of the PP tower building. Its unobstructed views of the Gulf, Lake Powell, and the beautiful multi-million-dollar homes in the private Carillon community are breathtaking.
The unique two-balcony floor plan, which is not available in the mid-rise buildings, or in the 1 BR units in the tower, provides for 13′ x 5′ ocean-front and lake-front balconies on opposite sides of the condo, each with premium teak chairs and tables.
Our unit has two Serta premium king-sized beds. The lake-side bedroom has a Serta Hotel Trump Select firm king mattress. The master king bedroom also has a Serta Perfect Sleeper Elite Smart Surface Redding high-end, firm mattress – this is not a sofa bed.
A quick ride down the elevator and a walk down a short hall, and you then step off into the sand. At Pinnacle Port, you are on the beach and a few seconds to the water.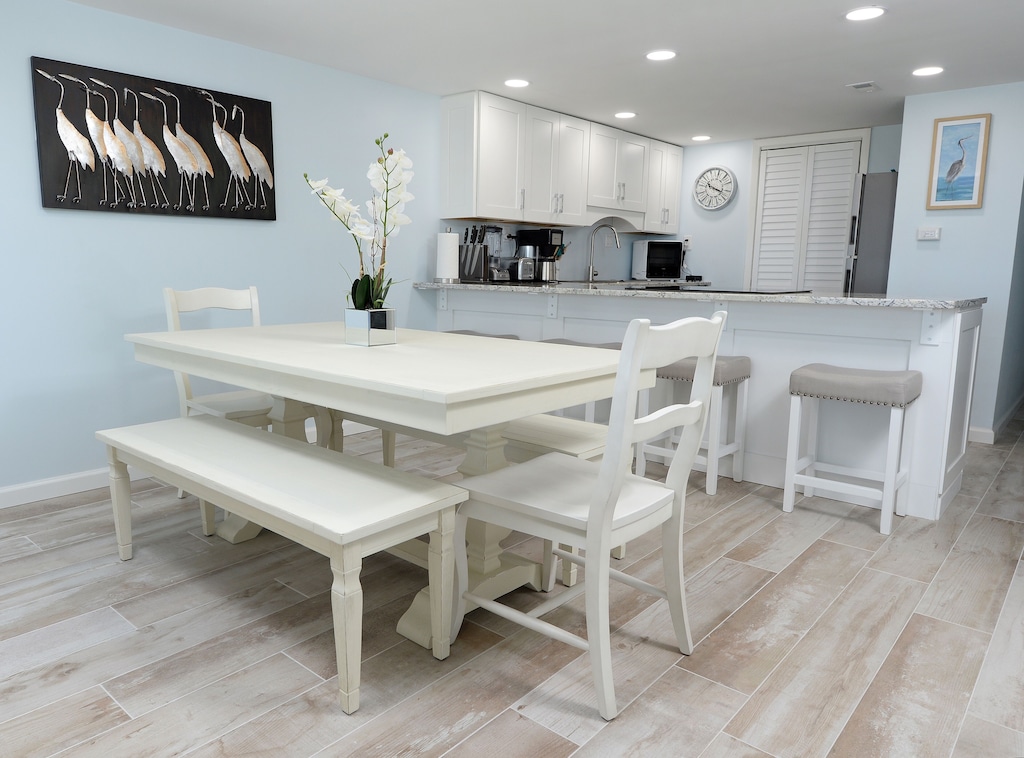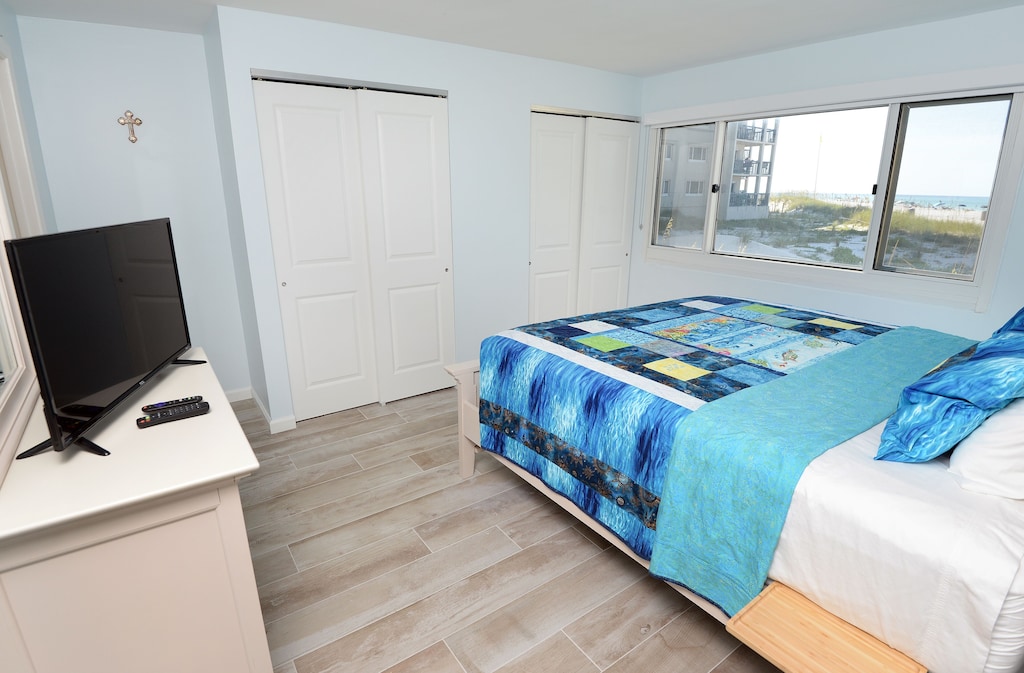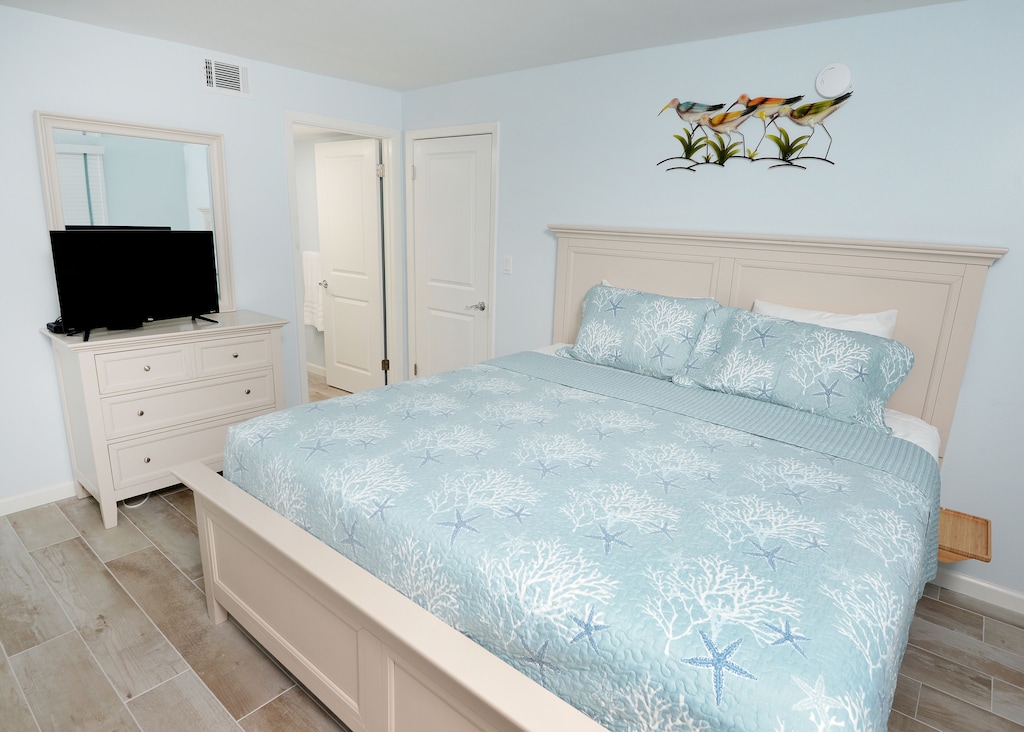 GULF FRONT BLISS TOO, Completely Renovated in 2019, Ocean Front / Gulf Front
Panama City Beach, FL
3 bedroom, 3 bath, 1244 square foot gulf or ocean-front condo end of highway 30A
NEW OWNERS, renovated from drywall up. New everything, premium finishes, furnishings.
ALSO SEE OUR 5-STAR 2 BR 2.5 BA unit in same resort at VRBO 633304
SNOWBIRDS AND OTHER LONG-TERM STAYS, PLEASE INQUIRE FOR DISCOUNTED QUOTE.
Once you stay at Pinnacle Port (PP) resort, you'll want to come back again and again. Pinnacle Port is located away from it all, midway between Destin and Panama City – at the quiet, western-most edge of Panama City Beach (walking distance from the eastern edge of the Beaches of South Walton on highway 30A ). Nestled between the Camp Helen state park and the private beach-home community of Carillon, Pinnacle Port resort is protected to the north by the picturesque inlet lake (Lake Powell), making Pinnacle Port resort one of the most secluded and quietest ocean-front resorts on the Panhandle.
Read More

ABOUT OUR CONDO:
– Beautifully decorated in cool coastal colors with elegant sea-life themes
– Keyless entry with your custom code – no more "who has the key"
– 3 BR, 3 BA (1244 Square Feet)
– Ground floor, no steps, no elevator, walk right onto sand
– Breathtaking unobstructed views of the Gulf from balcony, which is on a 4-foot tall foundation for stunning views. No need to go to the beach, you'll be on it.
– Watch sunrise and sunset from wrap-around 20′ x 8′ balcony
– 2 premium king sized beds, twin/full bunks. Sleeps 8 in beds
– Fully renovated in 2019: New tile floors, new cabinets & granite, new
furniture, new appliances, new paint, new showers, no popcorn
– Easy to use ROKU flat screen HD and 4K TVs throughout.
– Fully stocked kitchen.
– High quality linens, towels, provided
– see our other listing at Vrbo 633304 to see how we treat our guests. We are Vrbo PREMIER PARTNERS
RESORT AMENITIES INCLUDE:
– Seasonally headed indoor pool (during the cooler months the
outdoor section of the larger pool is covered, but the under roof
section of the indoor/outdoor pool is isolated and heated to 82
degrees. The outdoor portion of the pool is never heated and
opened as the weather gets warmer)
– Unheated outdoor pool
– Kid's playground and park area
– Shuffle board
– Tennis courts
– Basketball court
– Kayak, canoe, paddleboard rentals right on property at VERY reasonable rates
– Boat dock (fish or crab from the docks!) or bring a boat!
– Men's and women's sauna
– Fitness Room
– Plenty of parking
One of a Kind Unique Cabana Style Property
Crystal Beach, Destin, FL
4 SEPARATE CABANAS 7 bedrooms,4 baths, STEPS TO THE BEACH, Heated Pool, 1 level
ONE OF A KIND ……Unique Cabana style property. 4 individual cabanas with your own tropical courtyard, beautiful pool , patio table and chairs ,and gas grill.
Perfect entertaining and hanging out area for your whole group.
3 Cabanas have 2 bedrooms with 1 bath.
1 Cabana has 1 bedroom with 1 bath
BEDS FOR 15 BUT CAN ACCOMMODATE 19
Each Cabana has it's own fully furnished kitchen, living area, bathroom with washer and dryer. Each unit is beautifully furnished and has all the comforts of home. All on one level. No stairs to worry about with the little ones or the senior citizens.
Condo Unit Closest to the Beach! 2 Bedrooms, 1.5 Baths
Seagrove Beach, FL
This lovely unit in Seagrove Beach is fresh and ready for your stay! It was just updated in May 2016. It is one of the few units that only requires you to walk across the street to get to the beach and just a short stroll to the pool as well! The cozy furnishings and great location will have you wishing you could stay for weeks.
Cassine Garden has two beautiful community pools, a nature and fitness trail, tennis courts, a basketball court, a lovely pond and a private picnic area. The community is very quiet and serene- perfect for a week long vacation or a quick weekend get-away!
The downstairs features 2 bedrooms and a full bathroom. The master bedroom has a queen size bed with a pillowtop mattress and new linens. The room has sliding glass doors that open up to the lower deck. The master bedroom also has a TV with DVD player and ceiling fan. It opens to a private patio equiped with chairs for relaxing. The 2nd bedroom has bunk beds. The lower bunk is full size and the top bunk is a twin. There is also a pull-out trundle should you need more room. In the bunk room you will also find a pack-n-play with linens for our young guests.
Read More

Upstairs you will find a comfy couch and oversized Crate & Barrel chair with ottoman in the living area. The High Def television, web enabled Blu-Ray/DVD player has a complimentary Netflix subscription for endless movie options for your family! Lots of board games and a few toddler toys are also upstairs. The sliding glass doors on the second level open up to a covered deck- a great place to read a book or enjoy a glass of wine. The dining area has a dining table with four chairs. There are also 2 bar stools at the kitchen bar. A small desk is available for anyone needing to do a little work. The kitchen is fully stocked with all the tools you need to prepare anything from a snack to a family feast! There is also a half bathroom upstairs.
The entire condo has Saltillo tile throughout and features cheerful colors. Framed photographs of local landmarks are displayed throughout the unit. Washing Machine and dryer is located in laundry room just off the master bedroom downstairs.
The rental includes free Wi-Fi usage, Netflix, 2 beach cruiser bicycles (over a $100 savings if you rent), beach and pool toys, pack-n-play, a charcoal grill, and board games for the entire family! It is within walking distance to Mi Casita Mexican, 30A outlet (beach supplies), Perfect Pig, Cafe 30-A, Brozini's Pizza, Goatfeathers Fish Market, PopStop Gourmet Popsicles and Coffee, The Donut Hut, Urgent Care and Andy's Nails. And, of course, the beautiful beach is a short walk across the street! What more could you ask for!?!
3 Bed/2 Bath, Across From The Beach!
St. George Island, FL
Book the week of April 23-30 or May 7-14 and receive the Winter rate! That's a total savings of over $500! Can't stay a full week? We'll drop the 7 night minimum for a 3 night minimum stay at the Spring rate. Applies to new reservations only and cannot be combined with other specials.
AT LAST! A recently remodeled dream home from our family to yours! Polished and sophisticated, this 3BR/2BA beach beauty indulges you in luxury and comfort with quick and easy access to the white sand beaches of St. George Island. Situated inside the gated community of the St. George Plantation, you will find yourself immersed in the beauty of the natural vegetation and lulled by the soft hues of this comfortable and inviting beach cottage.
The first level houses the main living area with open kitchen, living and dining spaces and 3 large, sliding glass doors which open onto a spacious and furnished sundeck looking out toward sparkling Gulf waters. The living room offers 2 large sofas, inviting you to sink in and relax after a long day at the beach or to enjoy a movie with family on the 50' TV w/ DVD player. A Bose stereo streams your choice of music and vaulted ceilings add to the airiness of the space.
Read More

The dining table seats up to 8, with additional seating for 4 at the breakfast bar. A nearby writing desk is the perfect location to setup a laptop or to simply journal the days activities and beach memories….don't forget to sign our guest book! Just beyond the dining area is a room dedicated to leisure and doubles as an excellent reading nook or game space….a comfortable spot for the kiddos to begin a board game as lunch or dinner is prepared nearby.
The beautifully designed kitchen boasts granite countertops and a large, stainless steel sink. Upgraded appliances, a fully stocked kitchen and an open-shelving concept all combine to make an enjoyable cooking experience while a convenient wet bar adds to the ease of cocktail hour.
Just past the main living area are 2 inviting master suites each with large, walk-in closets, flat screen TVs w/ DVD players and luxury cotton bedding. The first spacious Master suite offers a King-sized bed and private bathroom with separate vanity area. The second Master suite has a comfortable Queen-sized bed and bathroom that opens from either the bedroom or the hallway for added convenience, also with a separate vanity area. Both bedrooms are equipped with ceiling fans for your comfort.
The top floor not only offers a 360 degree, panoramic view of the Gulf and lush vegetation, but is also an enjoyable space for children, teenagers or a small family. Two single beds, 1 double and a soft-to-the-touch single velvet futon allows for plenty of sleeping accommodations while a game table and flat screen TV w/ DVD player can occupy the senses as nightfall approaches.
For further convenience, you will find a hot/cold, enclosed outdoor shower to rinse off the salt and sand after a long day spent frolicking at the beach, as well as a fish cleaning table to prepare your catch of the day. Under-house parking is available for up to 2 vehicles with an oversized parking area on the north side of the .5 acre property for boats or additional vehicles. A full size washer and dryer can be found in the ground-level storage room. The community beach boardwalk is easily accessible, just a few steps down the residential street and The Plantation Clubhouse is just a short stroll from our home (only 1 street over!). This amazing state-of-the-art Clubhouse offers amenities that include a fitness center, tennis court and Olympic-sized community POOL, all available to our guests.
We welcome you and your family & friends to share in our beach home, At Last!
GRAYTON SUNSET
Grayton Beach, FL
Located in a quiet area of Grayton Beach, this beachy 4 bedroom, 4 bathroom home sleeps 10 with 2 kings, 1 queen, 2 twins, 2 twin (bunks). Enjoy spectacular views of the Gulf and rolling sand dunes of Grayton Beach State Park Preserve from the front porch and side decks (including a spacious screened porch).
FIRST LEVEL
– Living room with large flat screen TV and access to large deck with great views
– Open, well stocked kitchen
– Screened porch
– Full hall bath off kitchen with shower/tub combination
– King bedroom with TV, private bath (low lip shower only), walk-in closet
– Double twin bedroom, TV
– Laundry room with sink
SECOND LEVEL
– King bedroom with TV, large private bath – shower only
– Bunk room with twin bunks and additional queen bed, TV, private bath
– Great, open upper deck with lovely views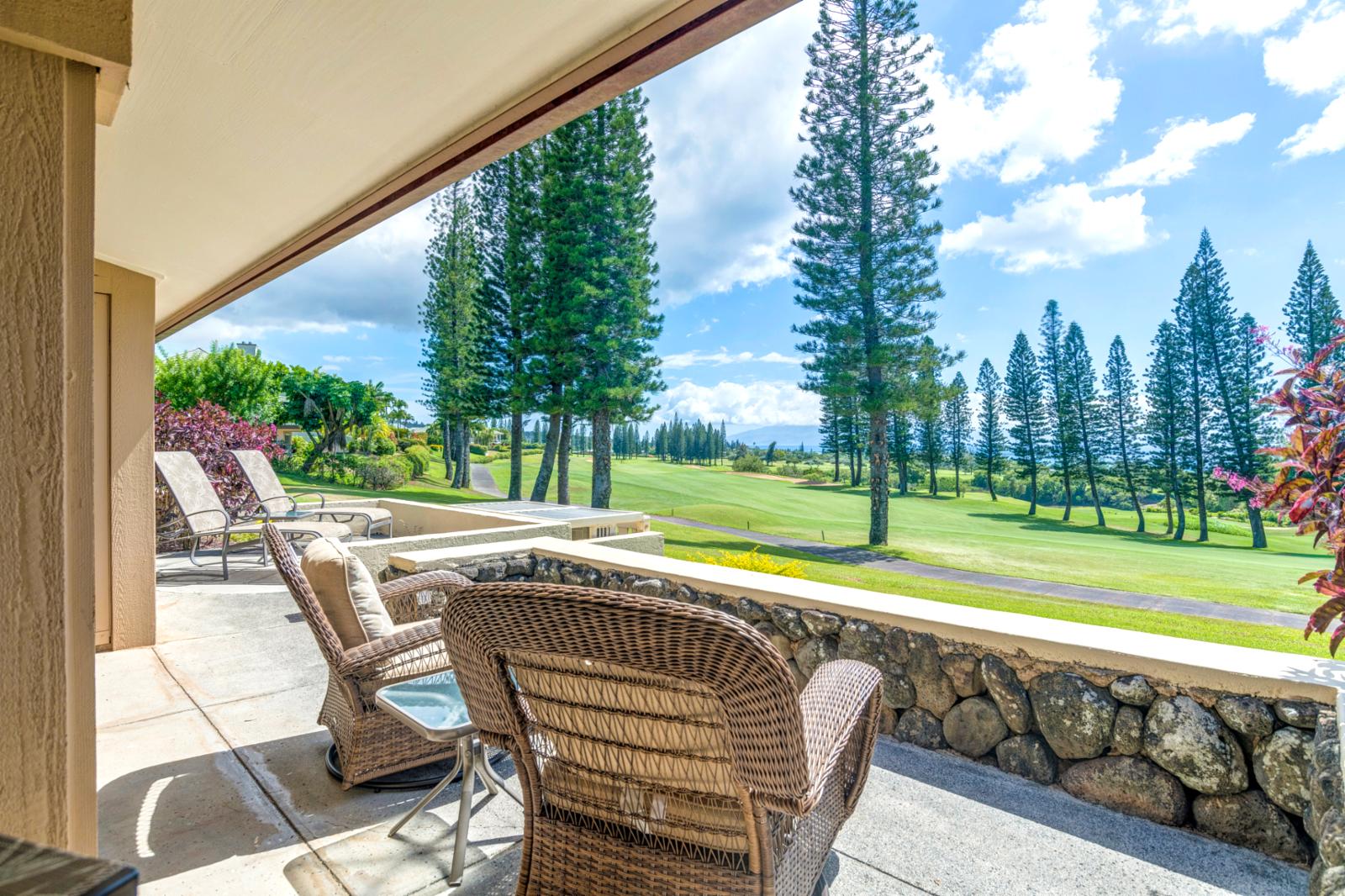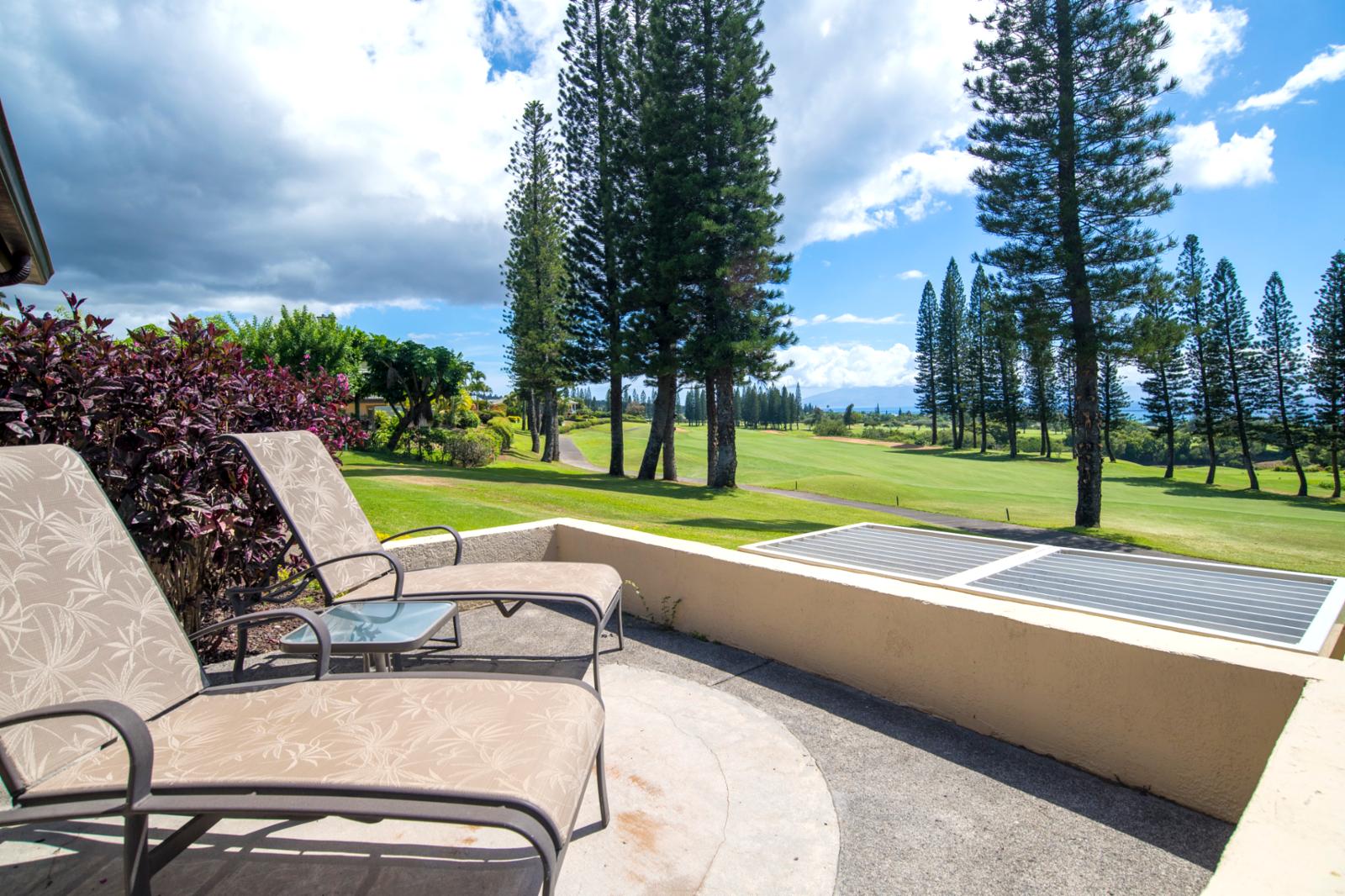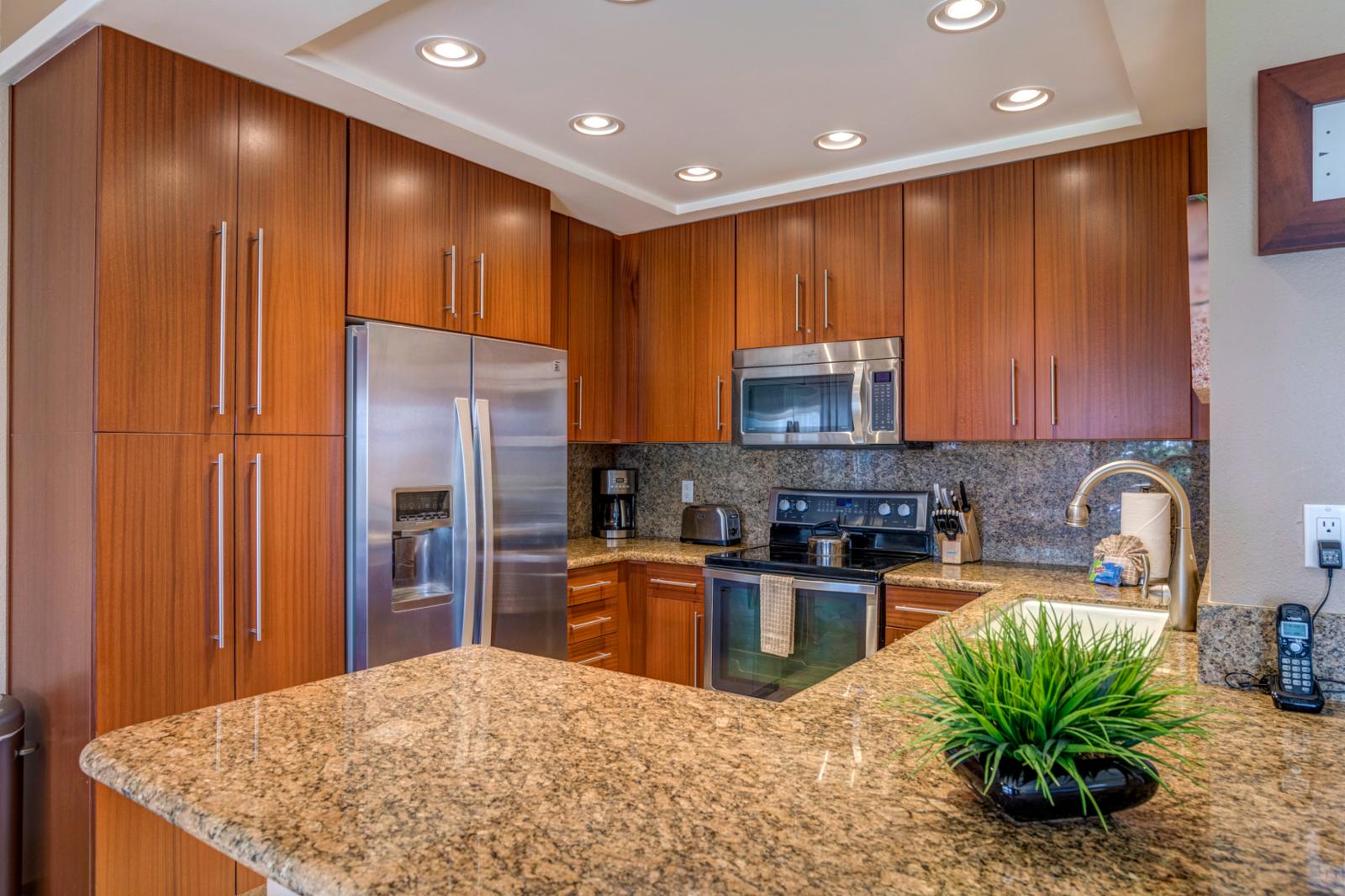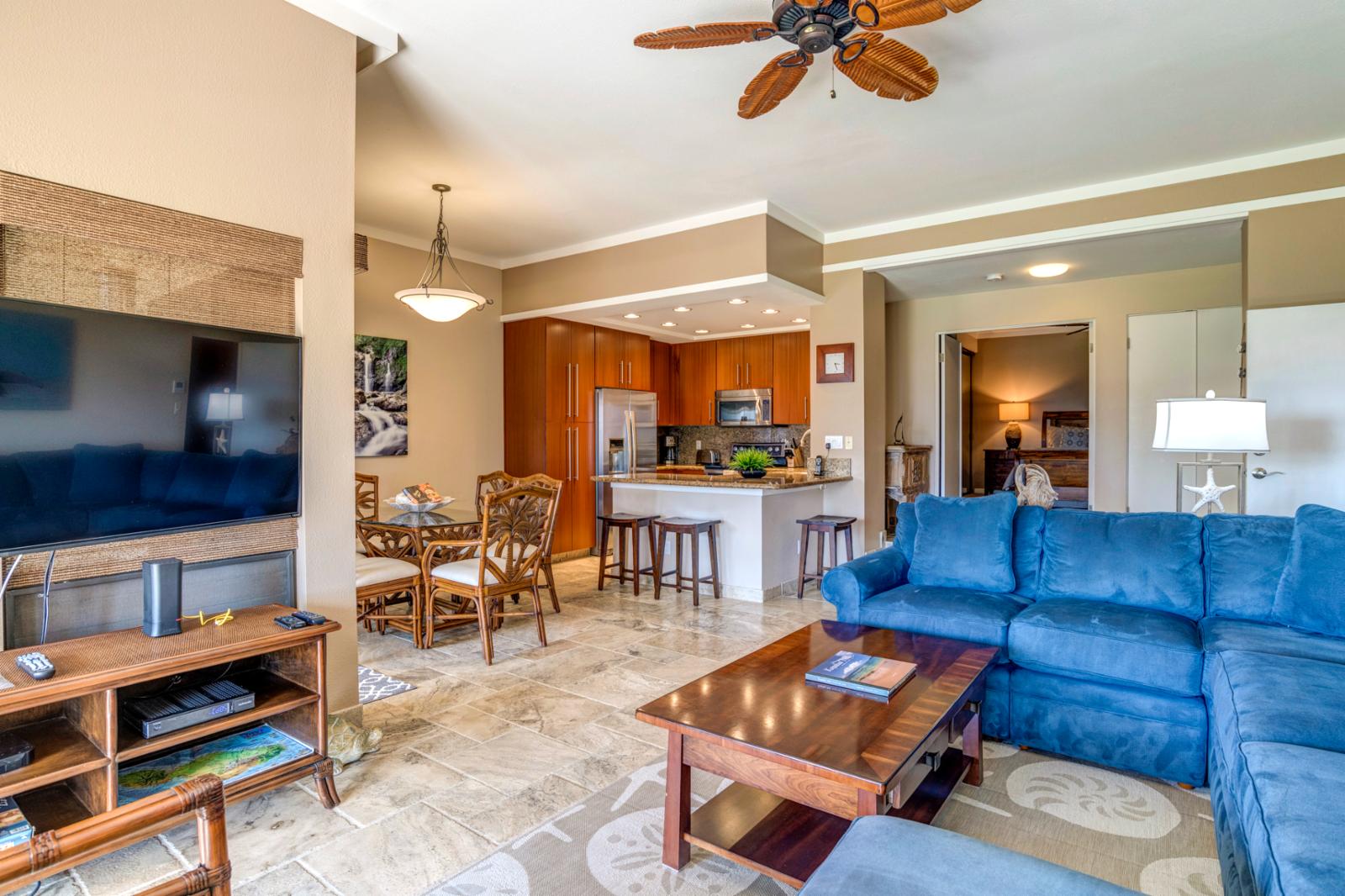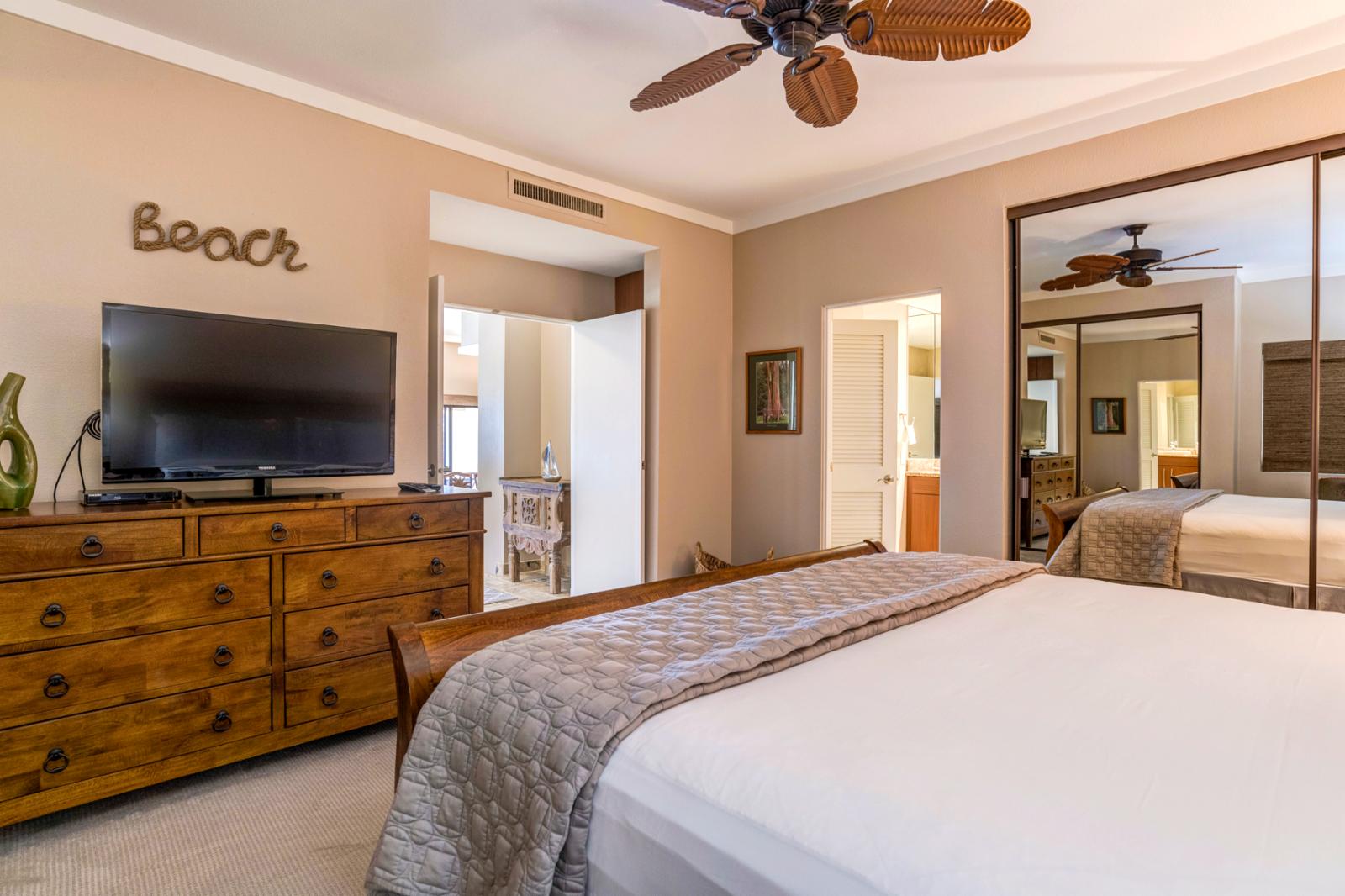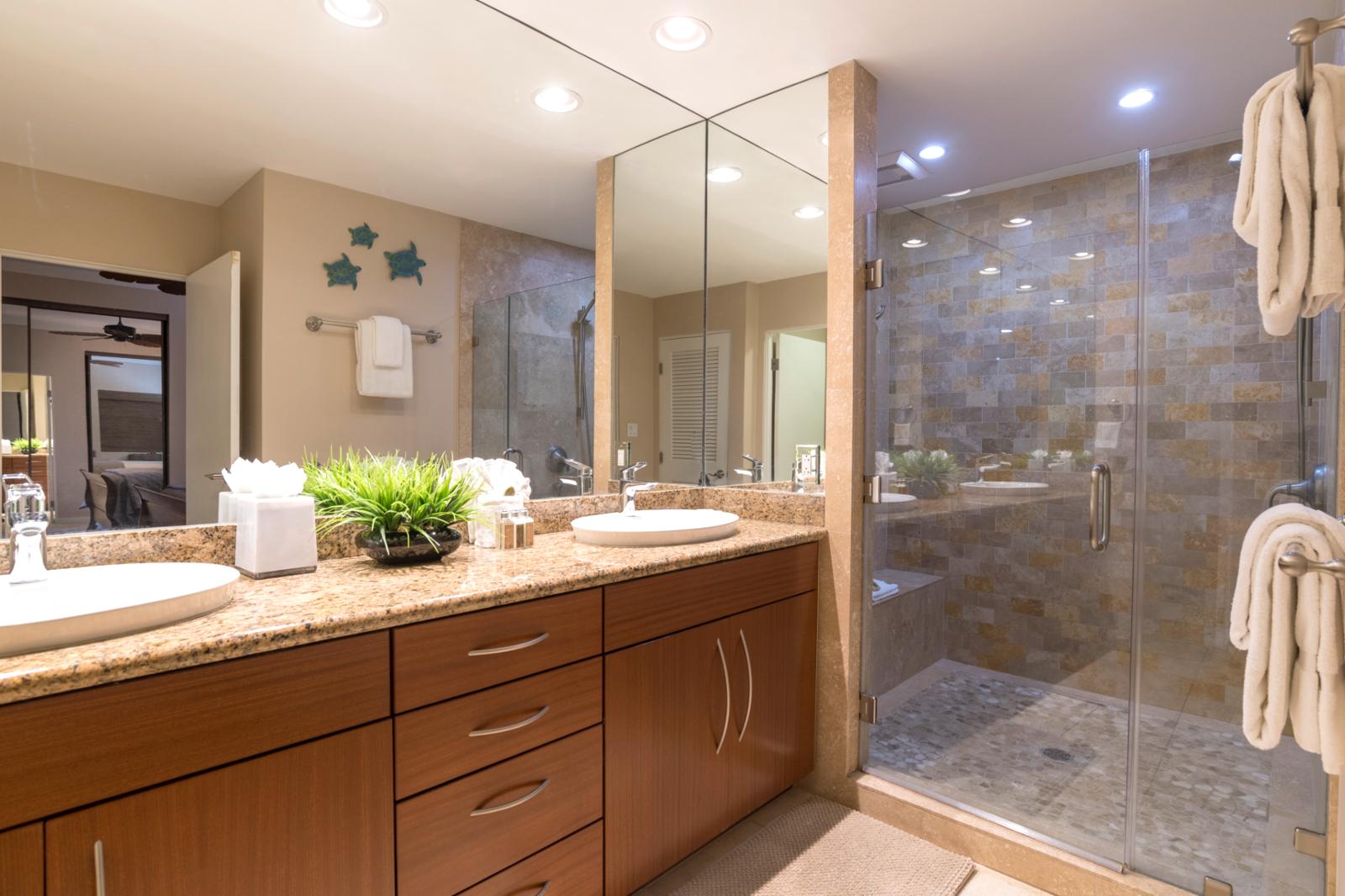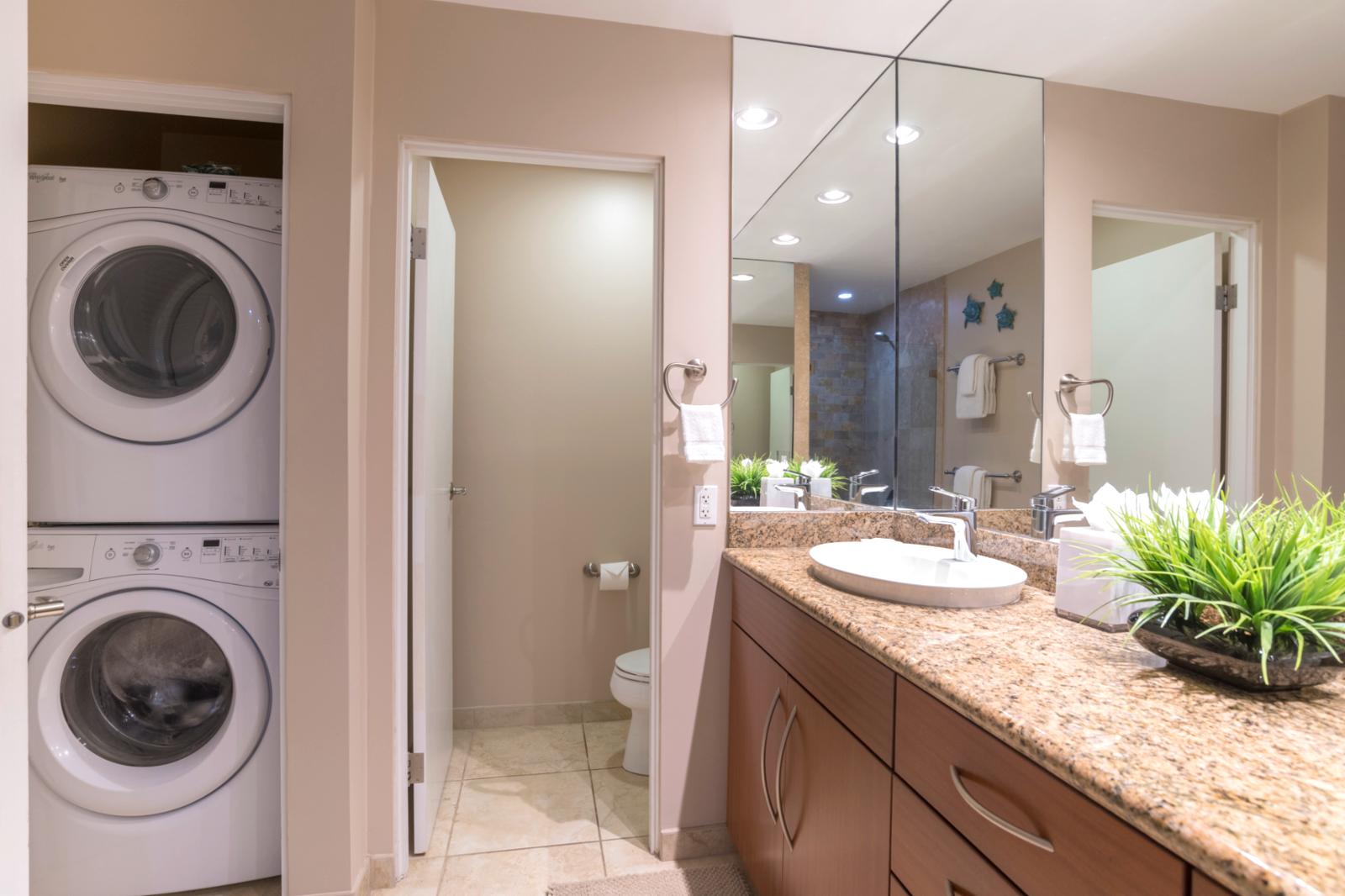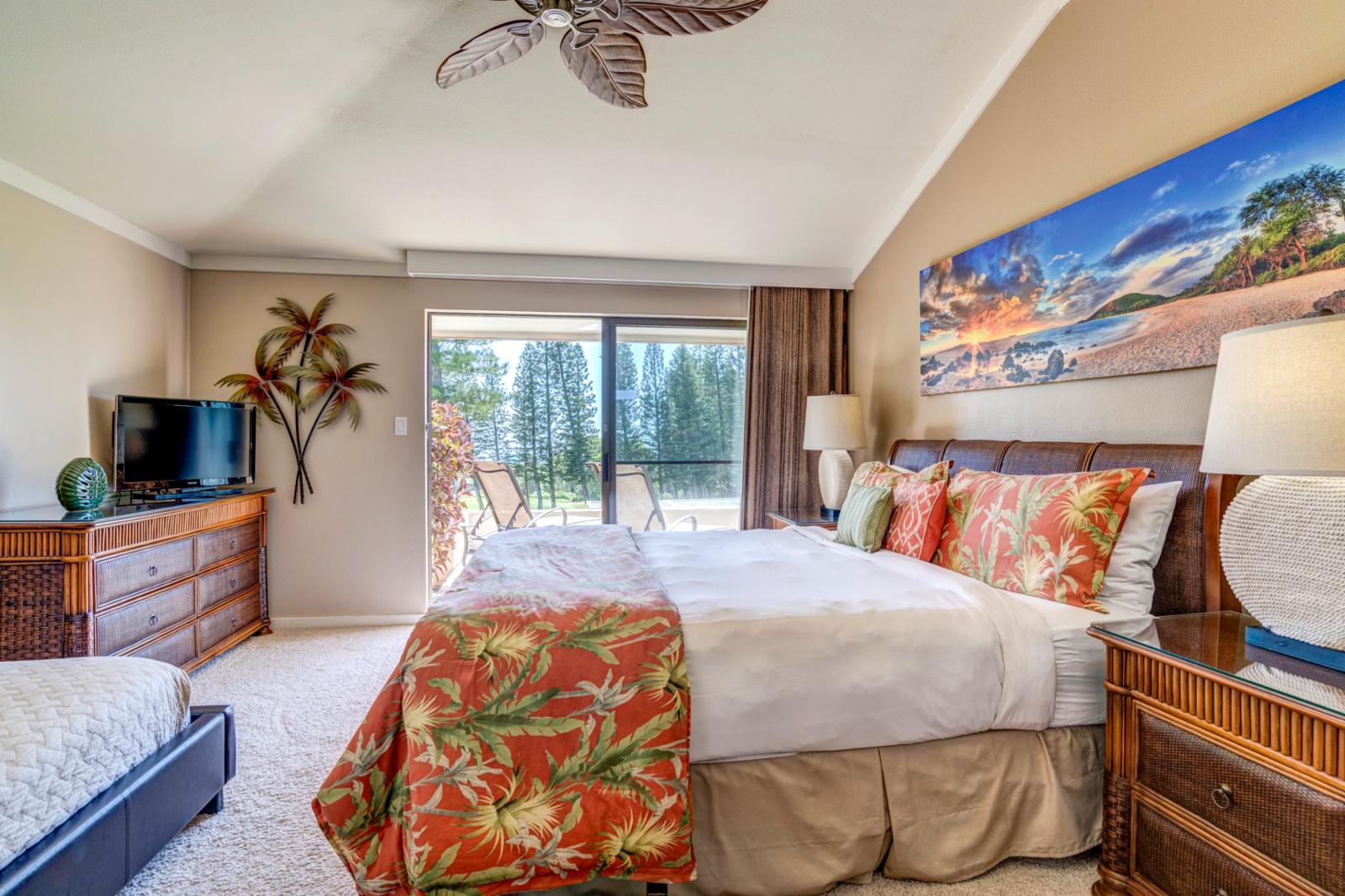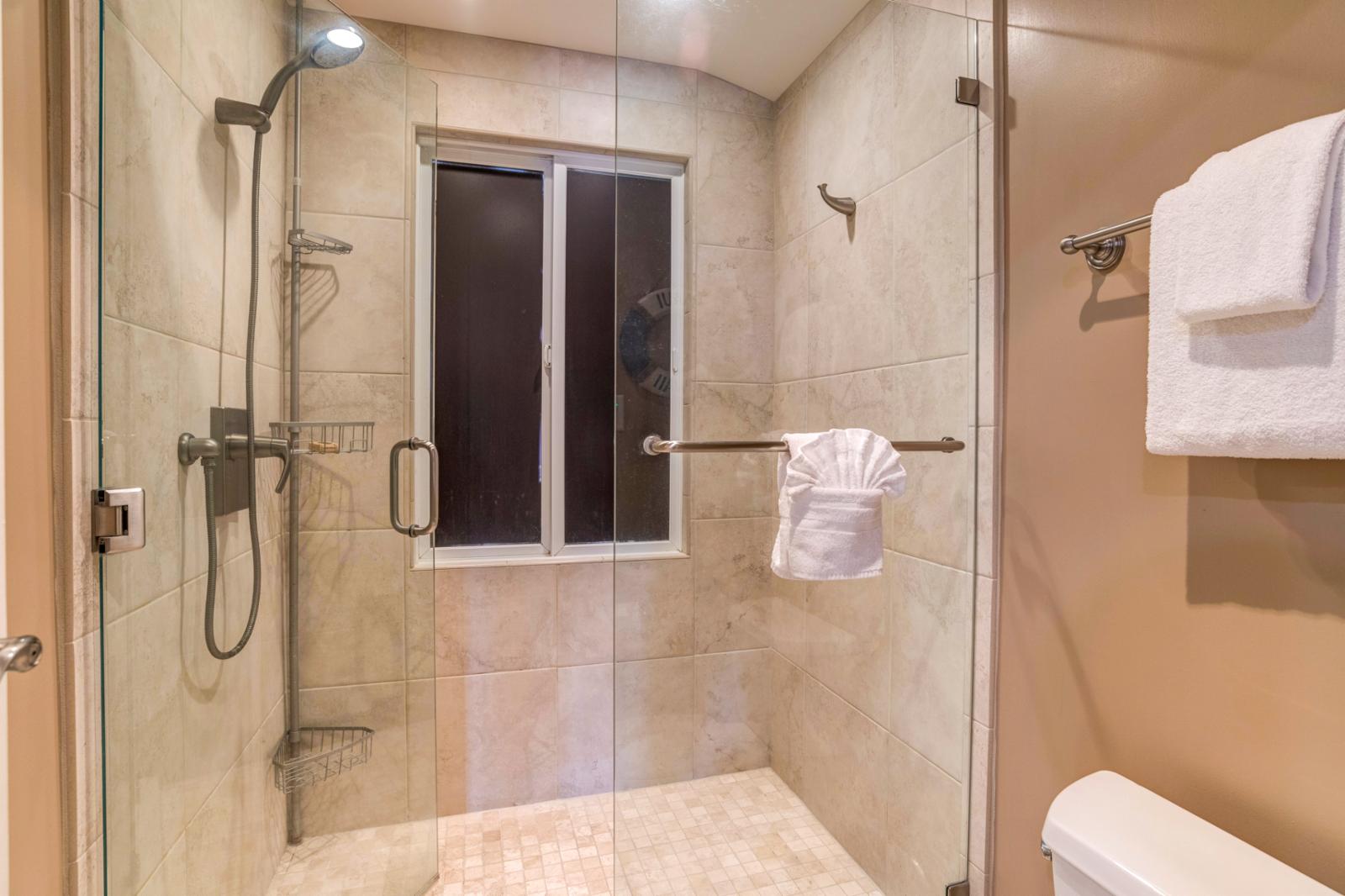 KAPALUA GOLF VILLAS
Kapalua, Maui, Hawaii
Vacation in comfort in this fully remodeled two bed and two bath Golf Villa. With plenty of room for two couples or a large family, this first floor property will impress even the most discerning guests. Custom travertine tile flooring villaes all of the open living space, with expansive windows and doors leading out to the 1200 square feet of outdoor space.
Beautiful beaches and breathtaking views are only a part of the allure of Kapalua Resort. The Golf Villas feature several pools throughout the property which include outdoor kitchen with bbq setup with breathtaking views of the beautiful Pacific Ocean. Dining is just around the corner including Plantation House, Pineapple Grill, and historic Merriman's.
As with all properties managed by KBM Hawaii, this unit comes with the extras that make your vacation one you will always remember. Provided at no extra cost with your reservation are the following luxury packages:
Read More

Hotel Amenities Package featuring exclusive L'Occitane soaps and lotions found in luxury spas and resorts worldwide, premium bath linens for extra comfort, pressed bed linens and delicious Hawaiian Host chocolate covered macadamia nuts. Upon arrival, your resort concierge greets you and personally checks you in to ensure your comfort and familiarize you with the many features of your luxury vacation home.
Starter Package includes dish towels, paper towels, dish soap, dishwasher detergent, plastic refuse bags, bathroom and facial tissue, HE Laundry detergent, and more.
Pool and Beach Package comes with extra-large beach towels, folding beach chairs, portable beach umbrella with carry case, plastic ice chest, boogie boards, and and a large sand bucket with toys for hours of beach fun
Entertainment Package includes free wireless internet, house phone, cable tv service, and high-definition flat screen tv(s) with HDMI ports to connect your personal video cameras, gaming consoles, etc.
Children's Package includes a portable Pac 'n Play which doubles as an infant's crib (please bring your own crib sheet), booster seat with eating tray, plastic cups / dishes / utensils, and a large sand bucket with toys for the beach.
Premium Services
During your stay take advantage of our premium services – just a call or click away:
• Daily or on-demand maid service or fresh linen drop-off.
• KBM Hawaii activities desk with discount golf, luau, snorkel and sunset boat trips, surf lessons, paddle board rentals and more.
• Personal grocery shopping service to stock your pantry and refrigerator with your pick of favorite foods and beverages upon your arrival or during your stay.
• Special occasion fruit, wine and cheese gift baskets packed with your favorite fresh fruits, nuts, chocolates, gourmet cheese selection and wine pairings.
• Thinking of buying? Contact our full service real estate and property management division for a rental pro-forma.
Finally, you know you won't be gambling with your vacation investment when you book through KBM Hawaii. KBM Hawaii is a licensed, full service vacation rental and real estate sales company in Lahaina, Maui. You will book with confidence knowing our concierge, activities, and maintenance staff are just minutes away on call 24/7 for assistance and/or emergencies should you ever need to reach out for assistance during your stay.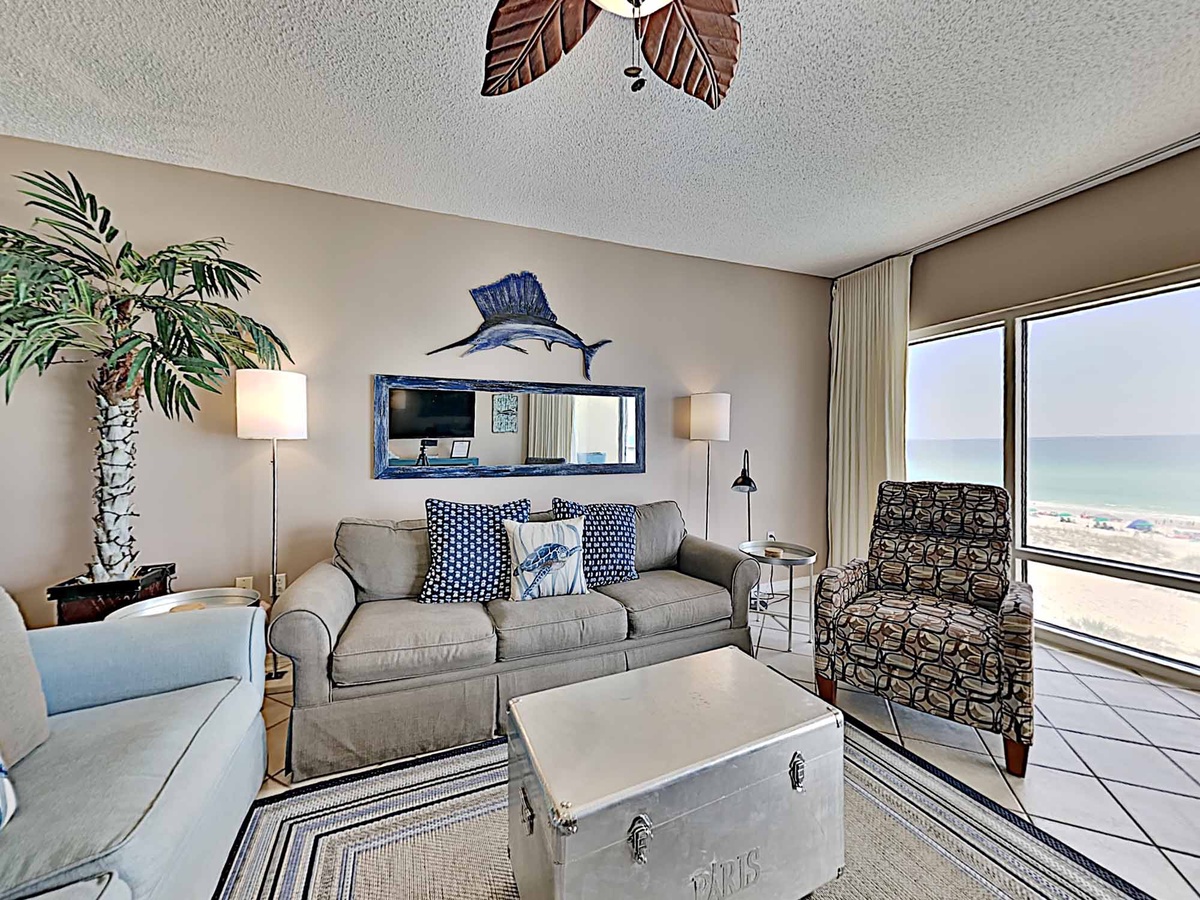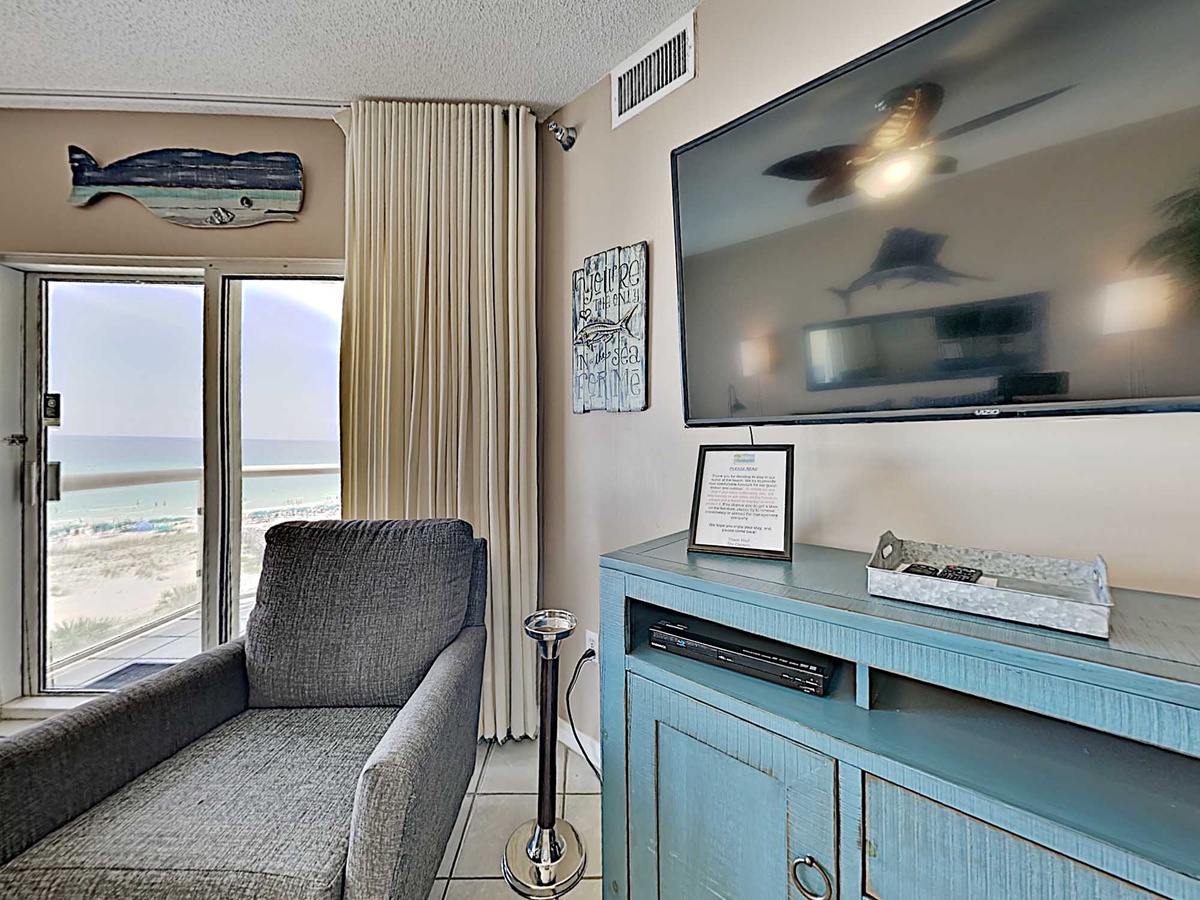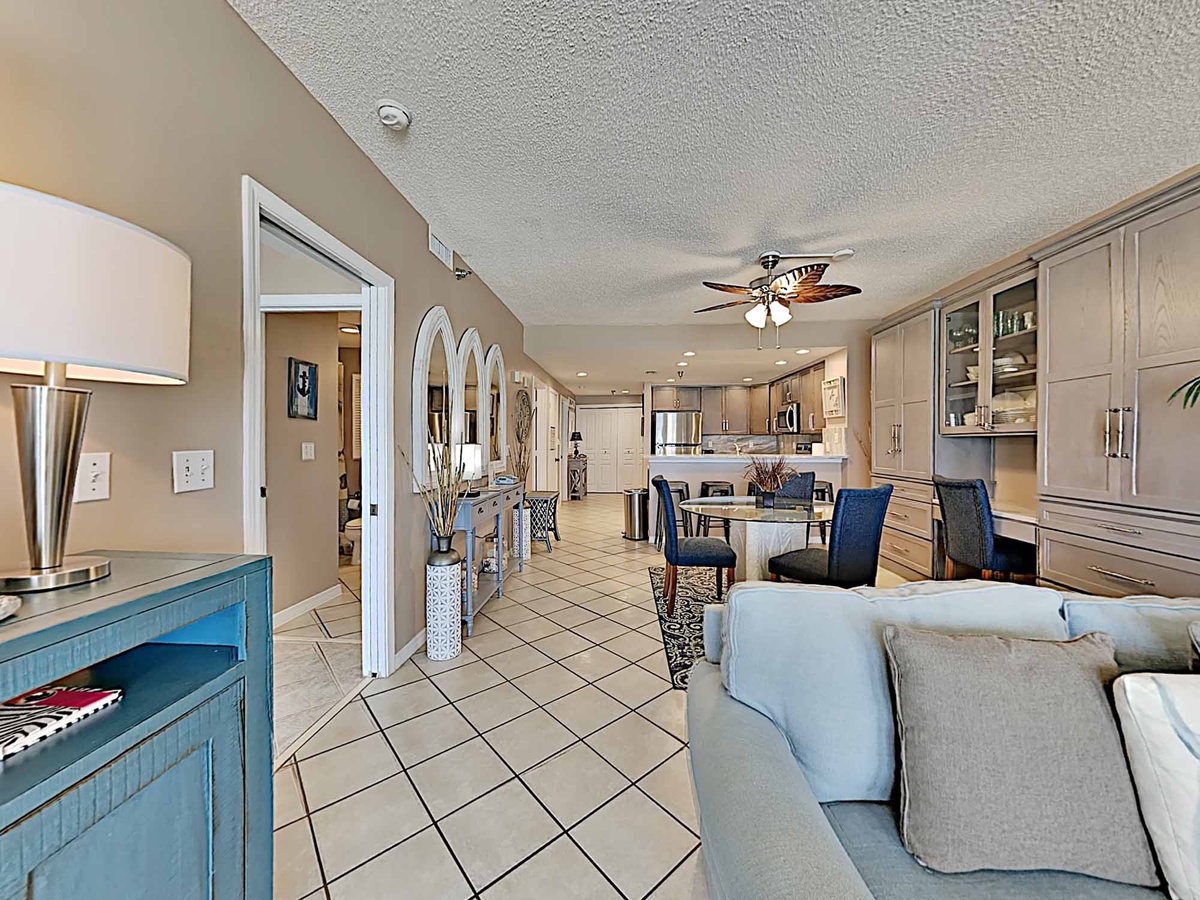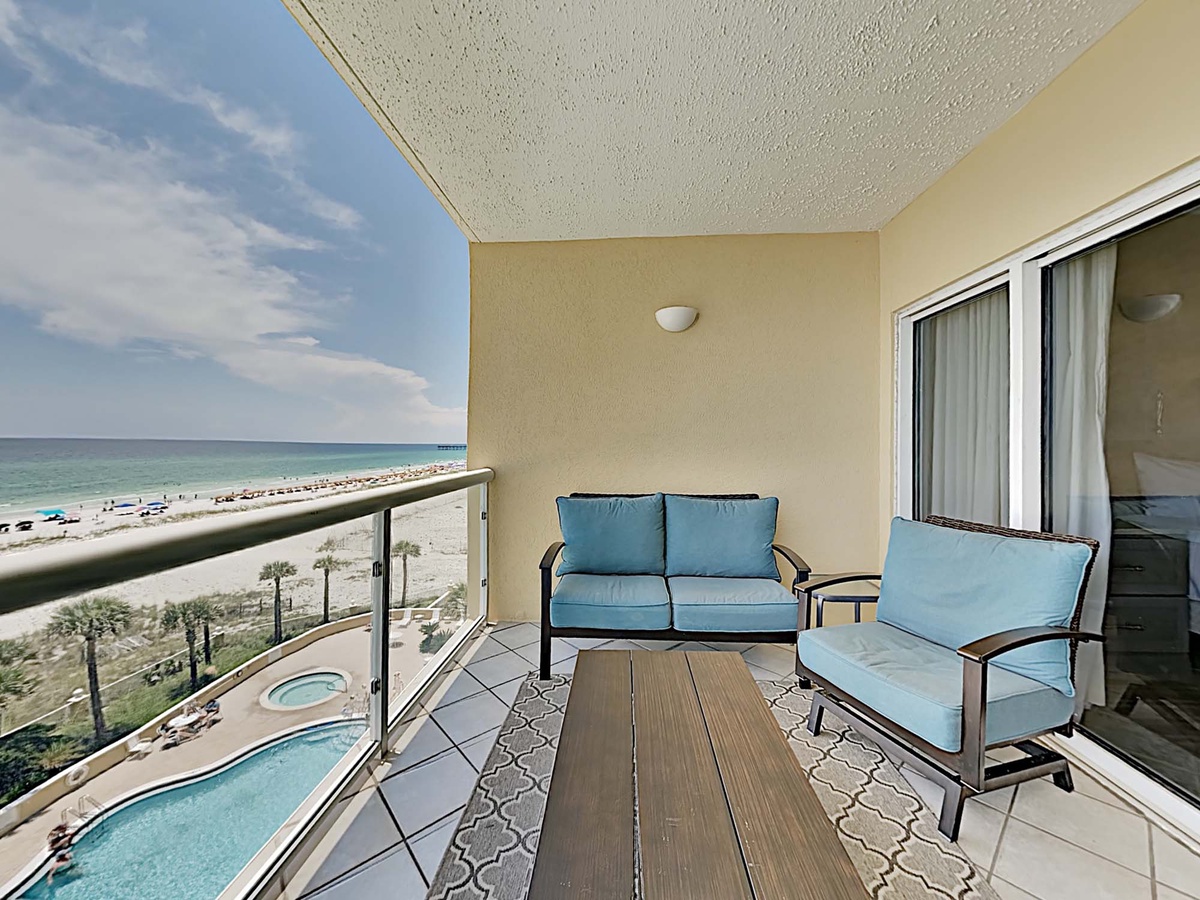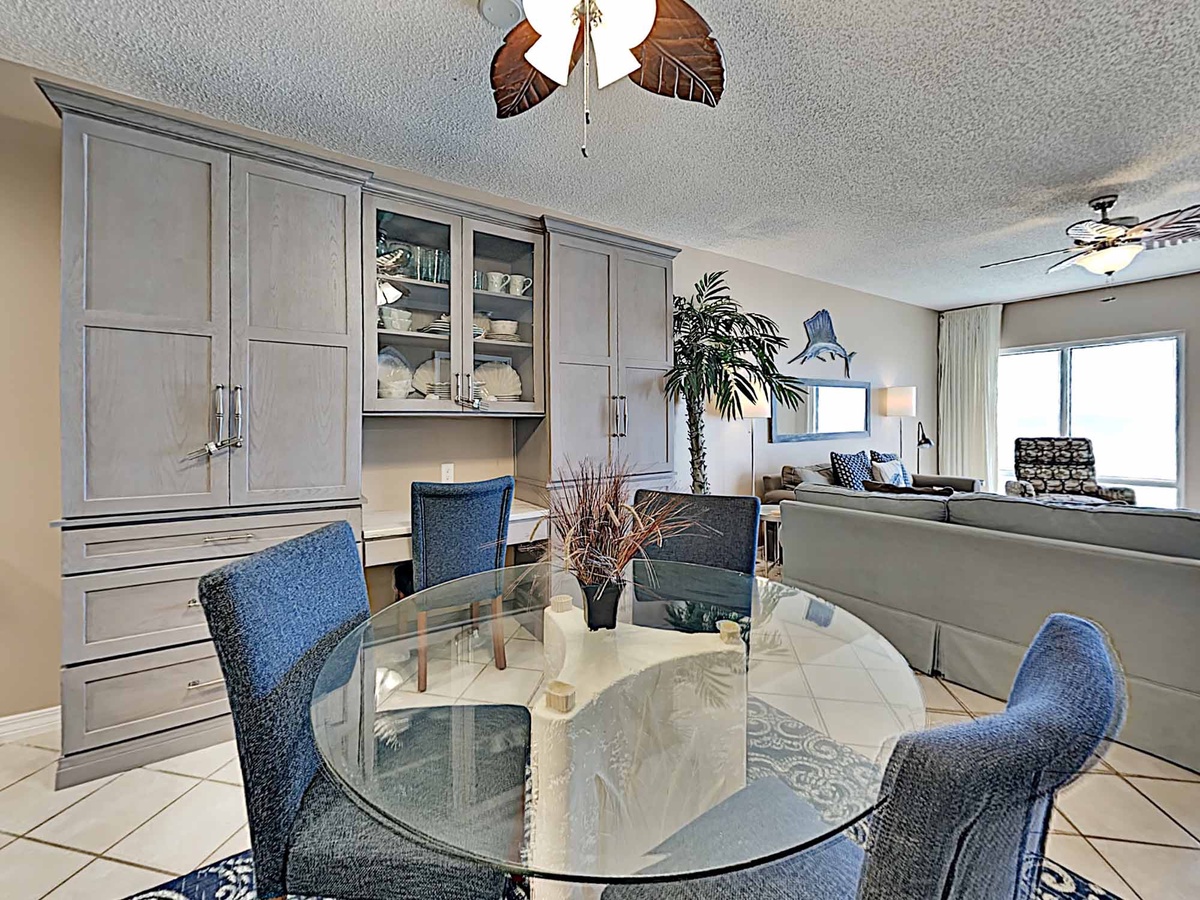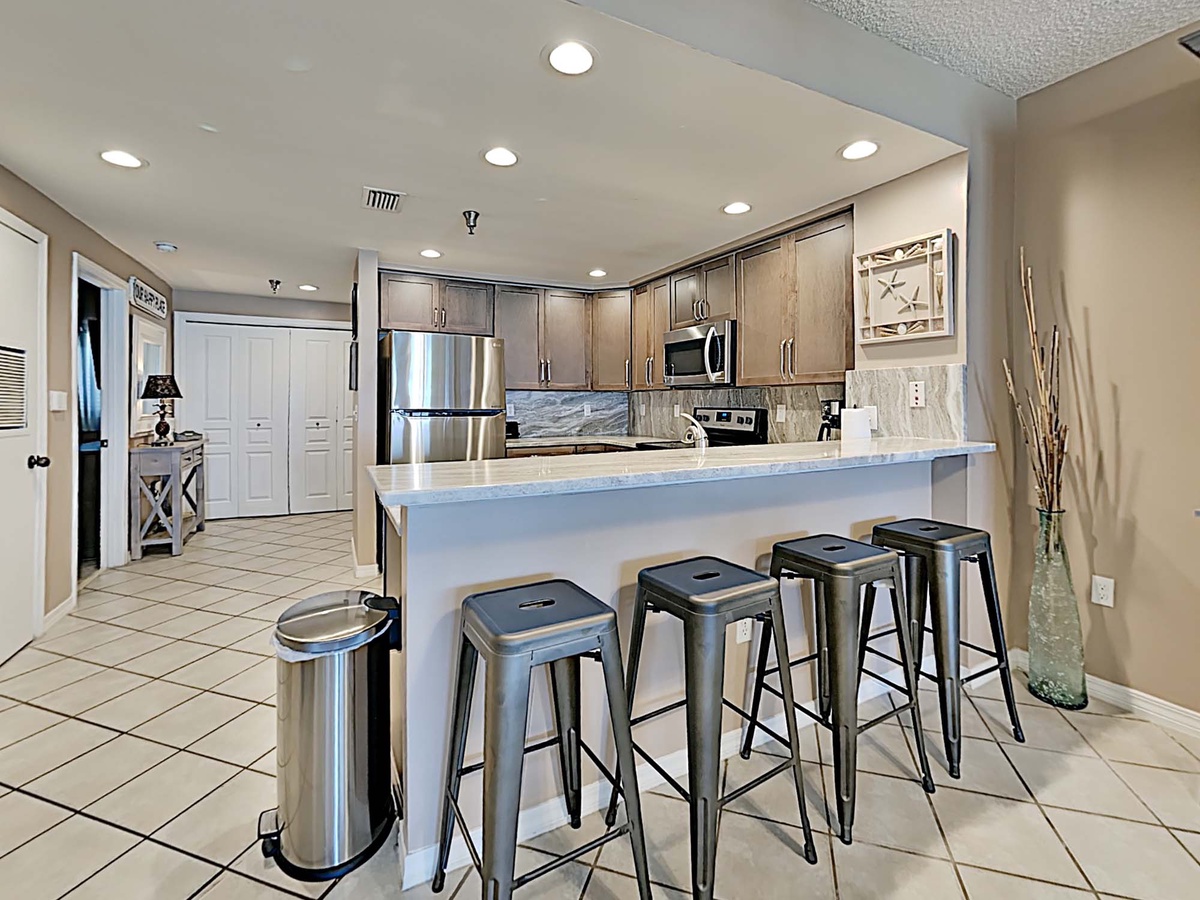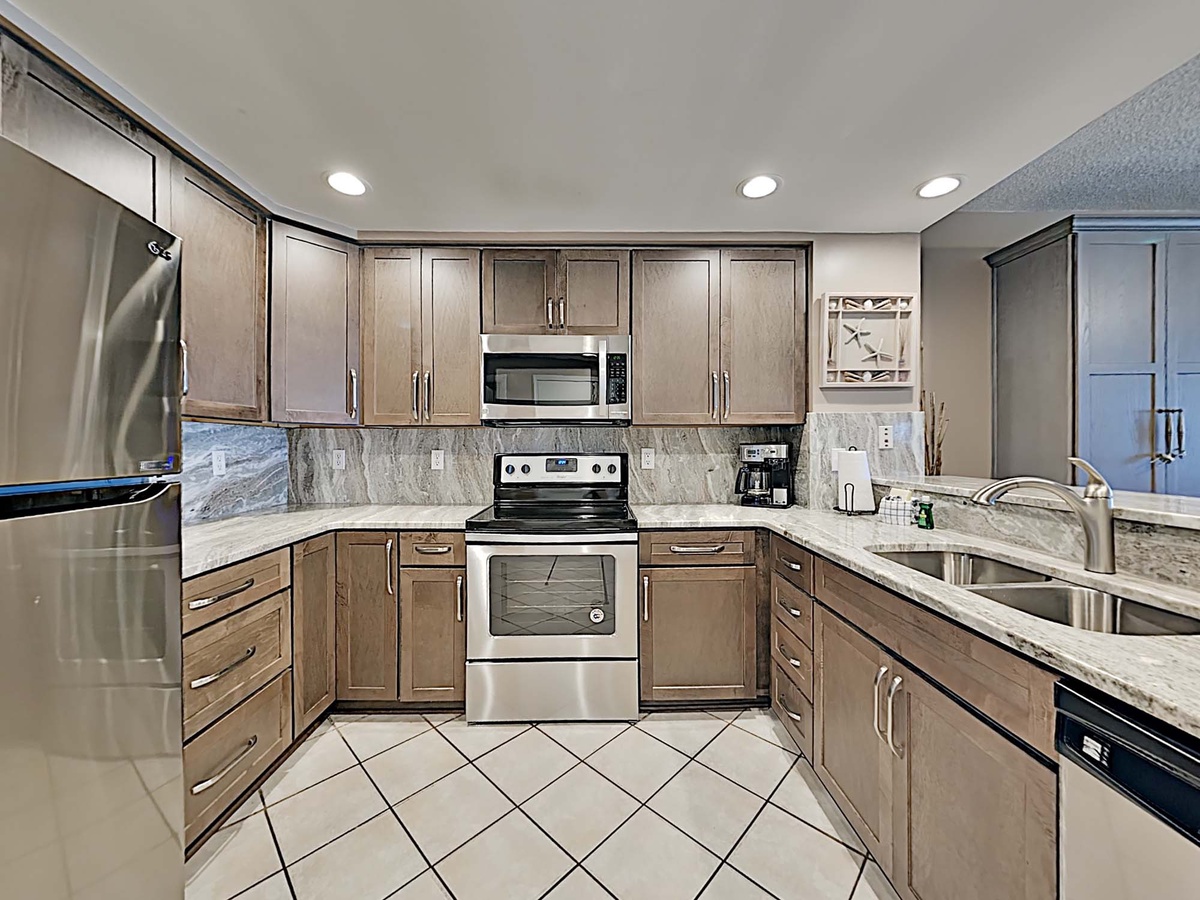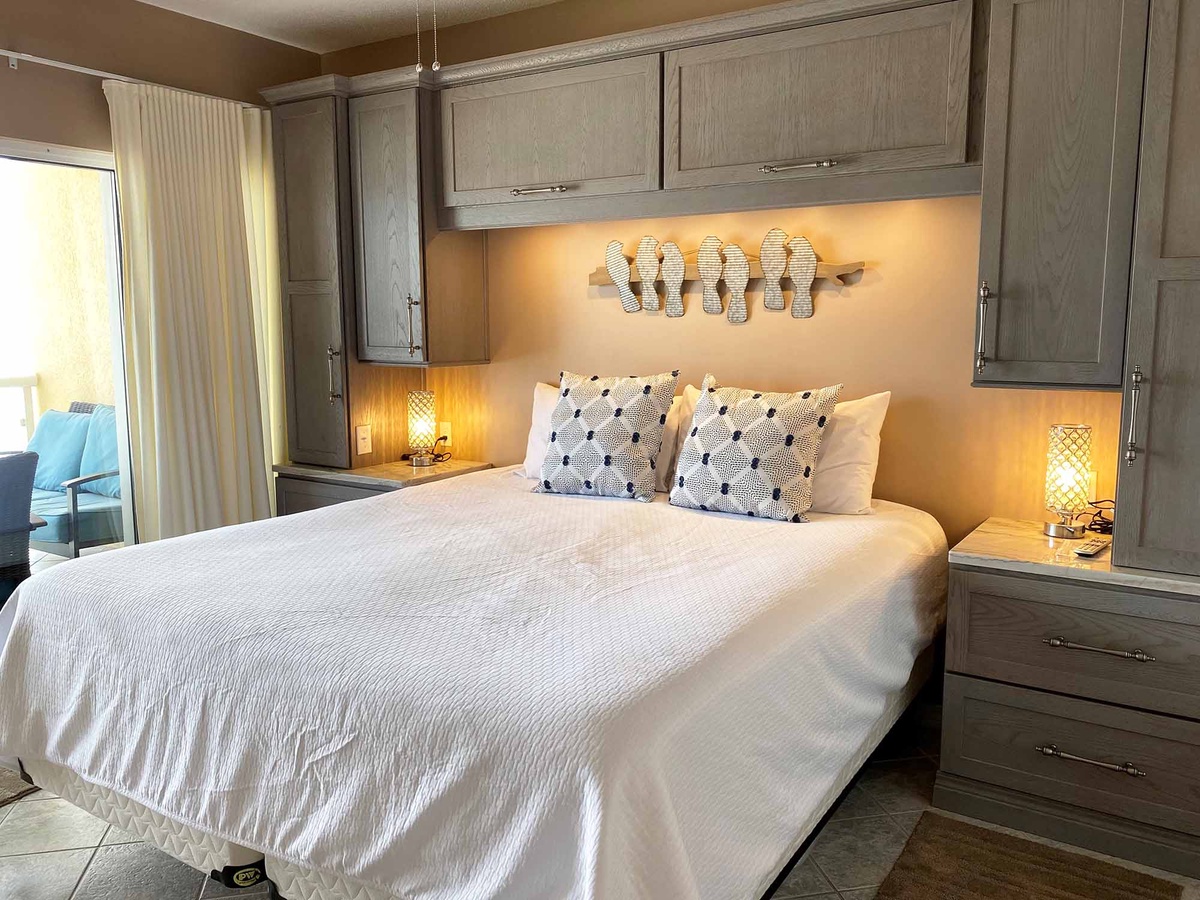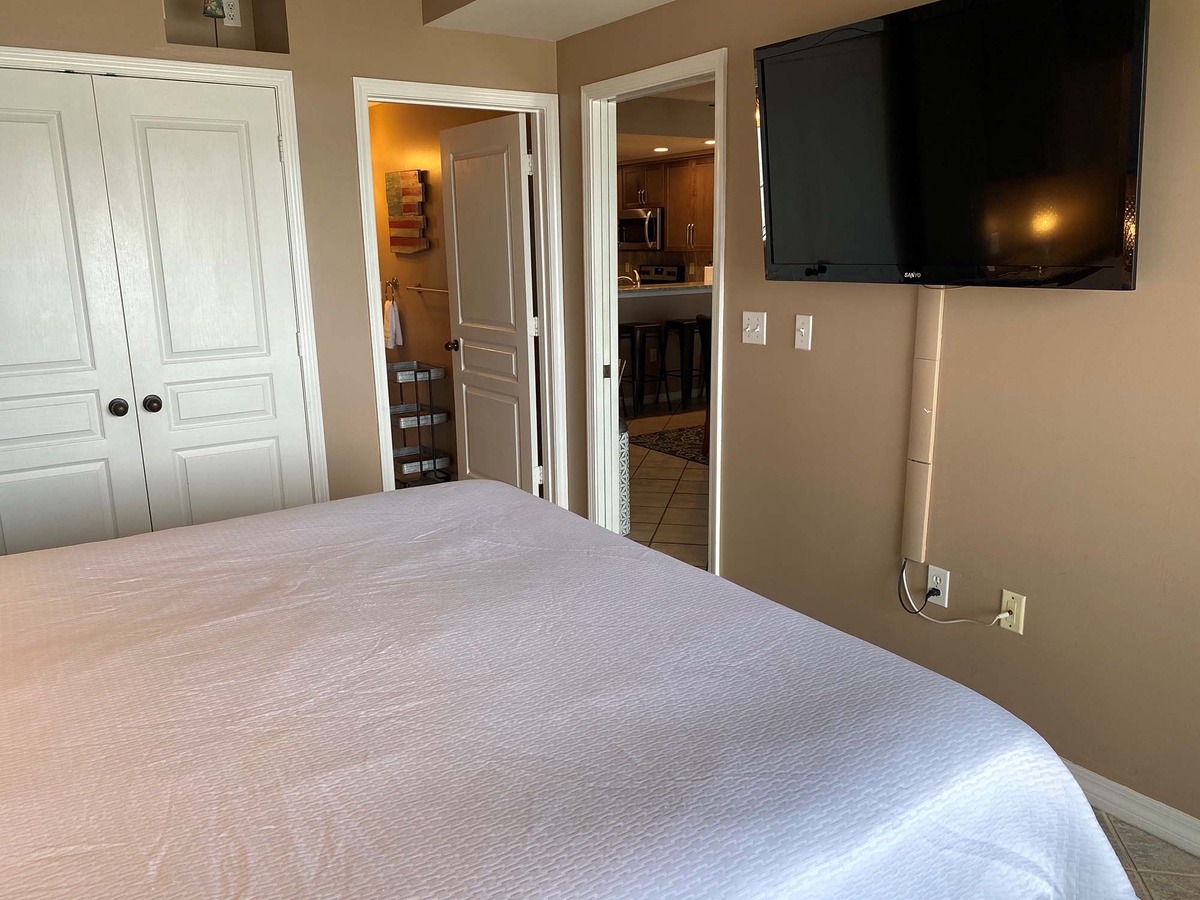 EMERALD ISLE #403
Pensacola Beach, Florida
Views of sugar-white sand, sparkling sunlight and brilliant blue water fill your days in this Pensacola Beach, Florida condo rental. Emerald Isle 403 offers ample space for up to six people, making it a great choice for your next group getaway.
Emerald Isle 403 comes with free WiFi as well as a washer and dryer. Unwind on your private balcony and spend time with your loved ones while you watch the gentle Gulf waves cascade onto the shore below. When you are not dining on fresh seafood and other delectable treats at nearby restaurants, cook up delicious meals in your full kitchen. The kitchen comes stocked with all of the dishes, cookware, and appliances you will need to create treats. From the master bedroom, gaze out at incredible beach views each day of your stay. You can also take in the mesmerizing scenery while relaxing in your living room. In the guest bedroom, you'll find two twin beds that can be pushed together to create a king bed, providing you with more space to stretch out and relax.
Read More

Emerald Isle features a variety of thrilling resort amenities for you to revel in during your escape, with two beachfront pools, a hot tub, onsite fitness facility, and sauna. If you're looking for a little bit of adventure after some relaxation time on the beach, then contact our Southern Perks partners. These local businesses provide Southern guests with deals and discounts on a myriad of activities and attractions in the local area.
Clean Coverlet Program: This property provides fresh and clean bed linens, including comforters and coverlets, laundered prior to every check-in.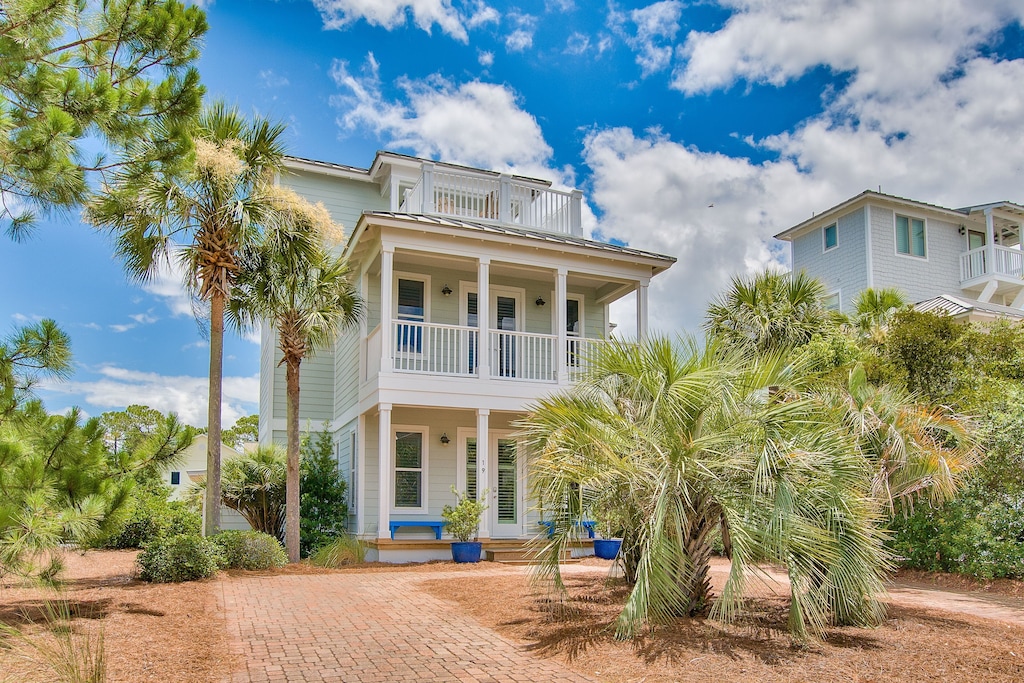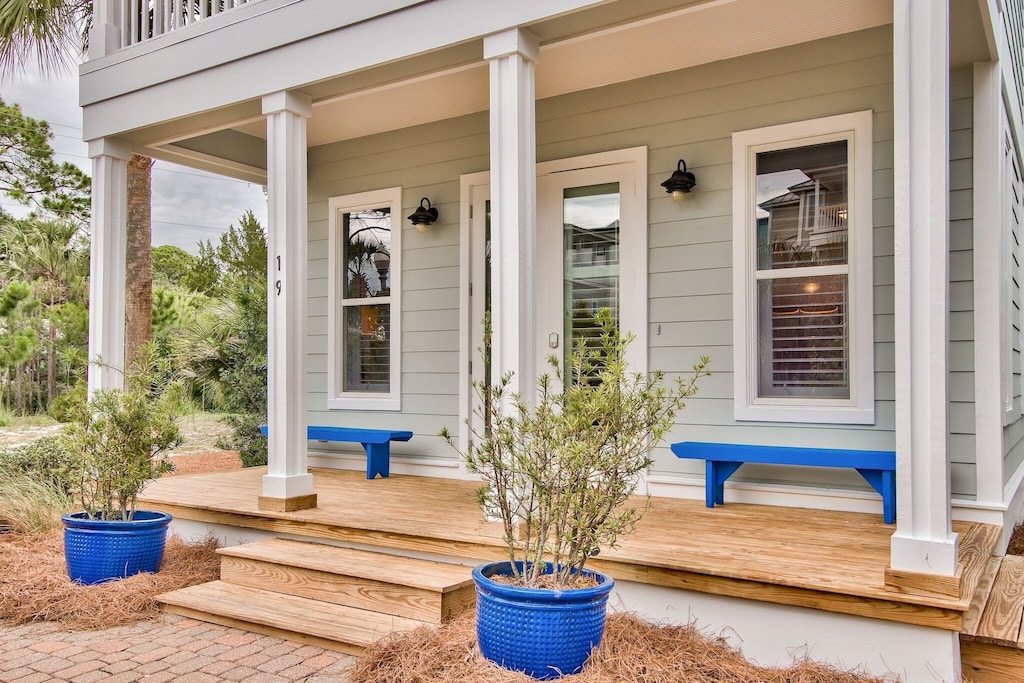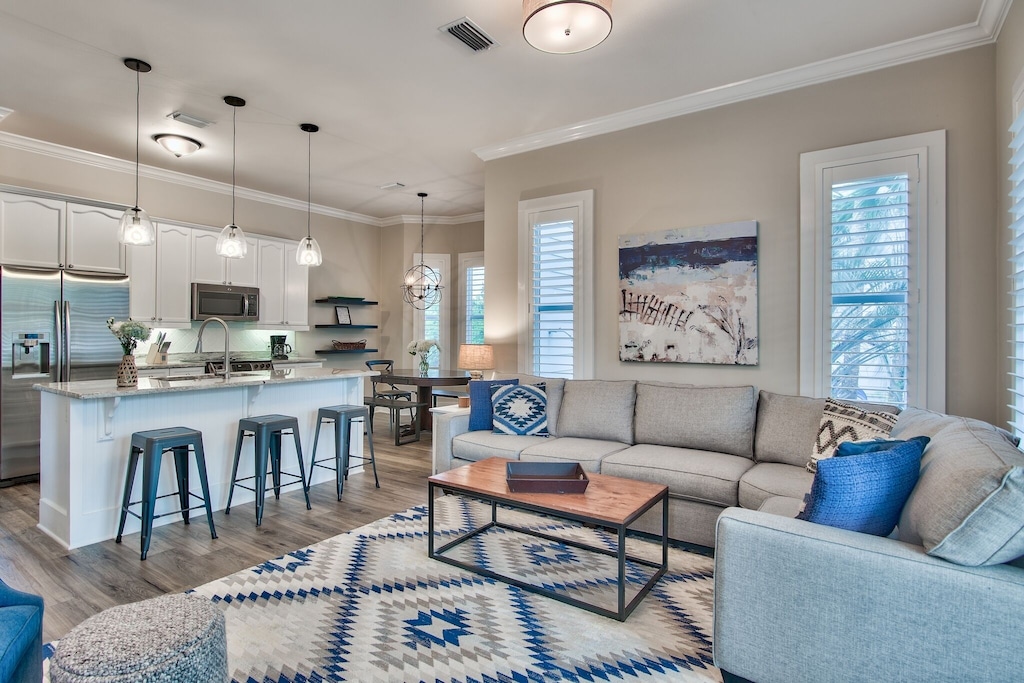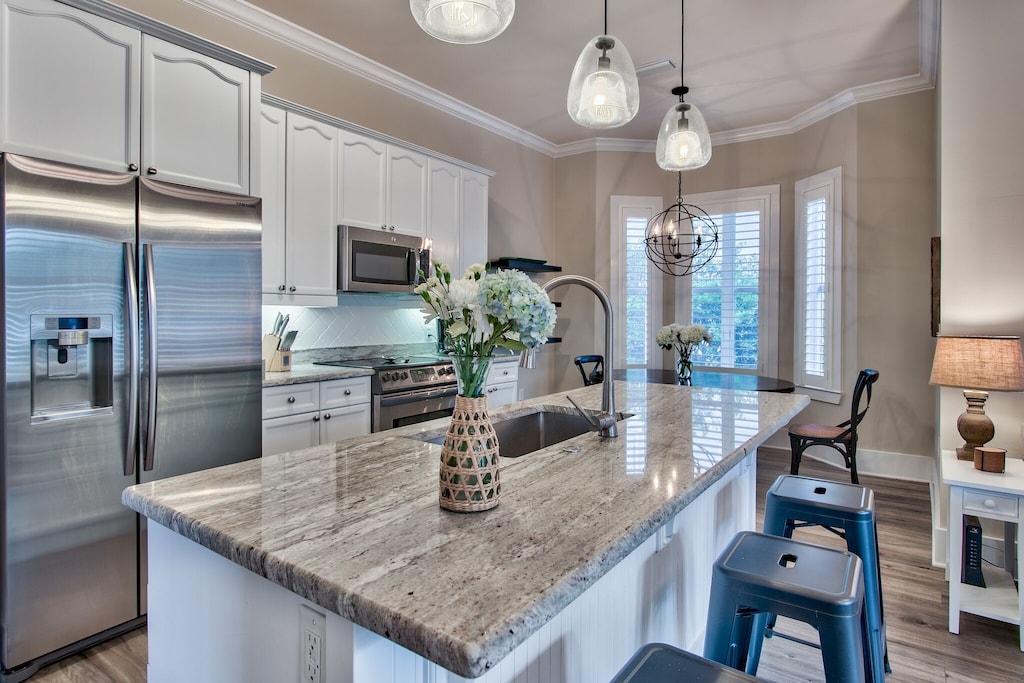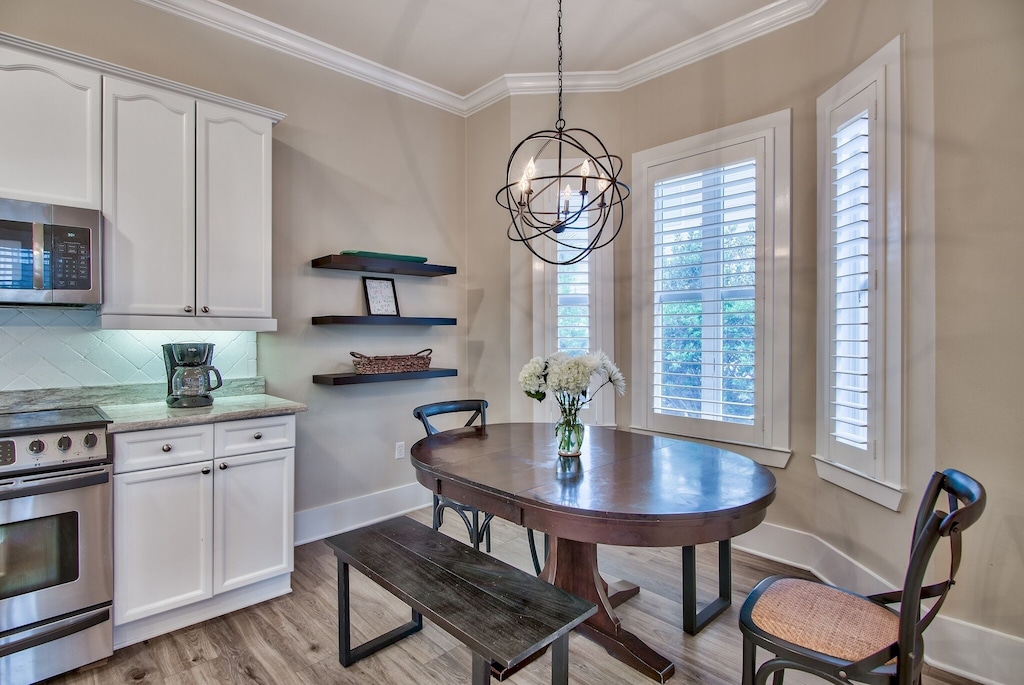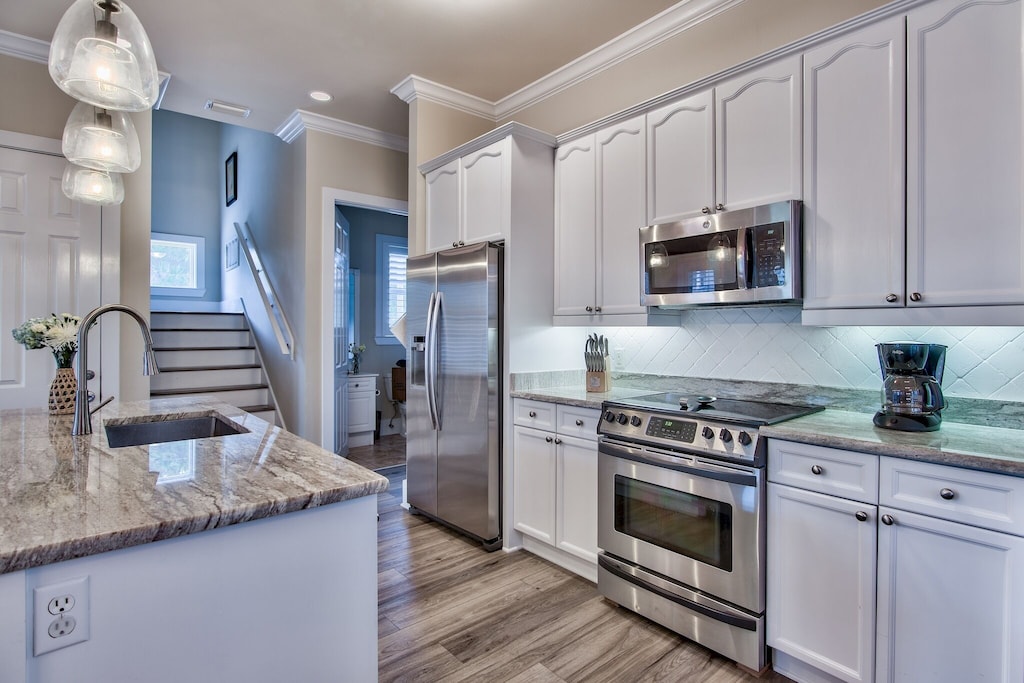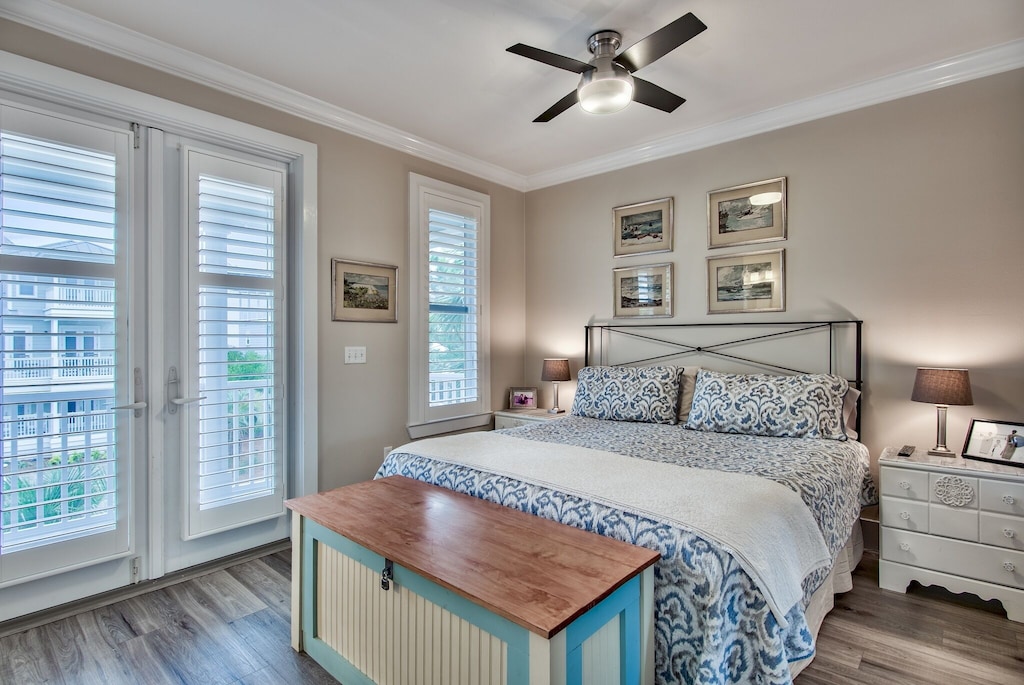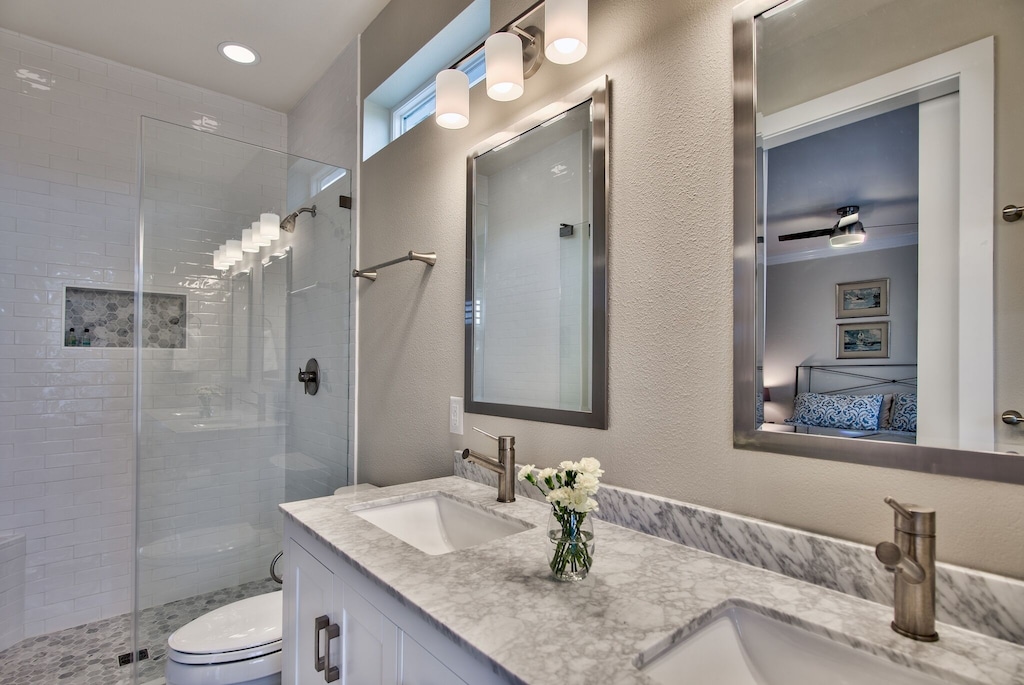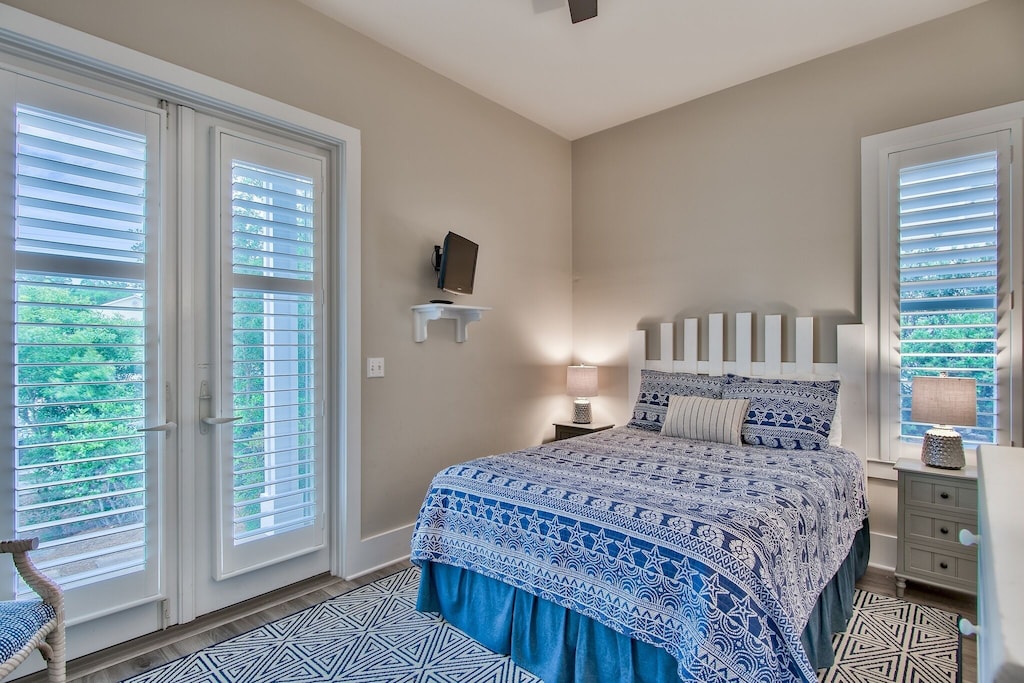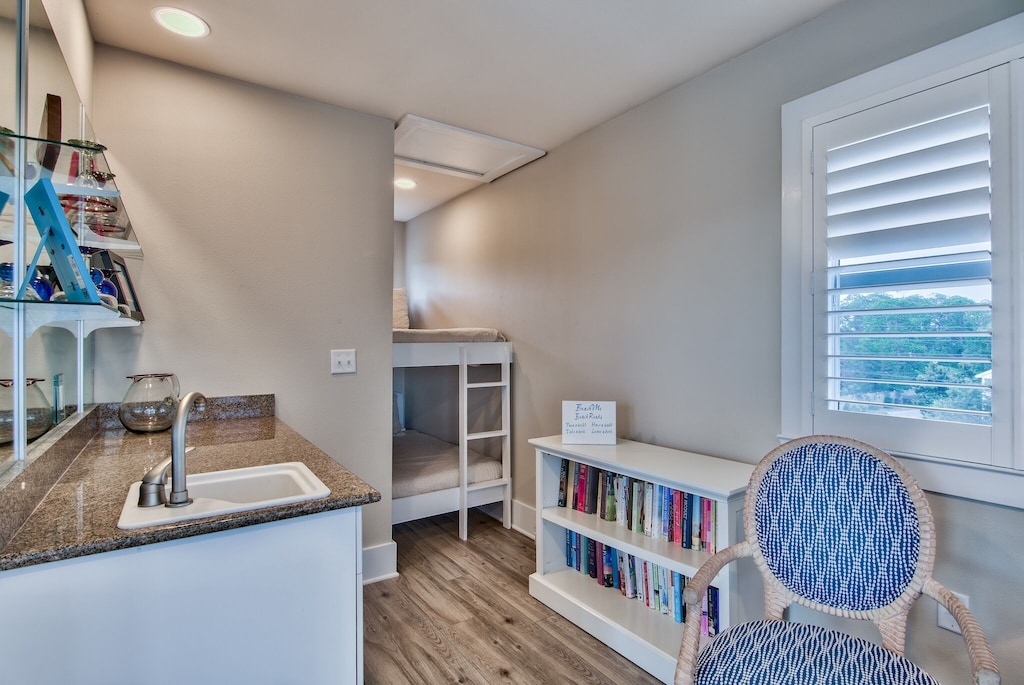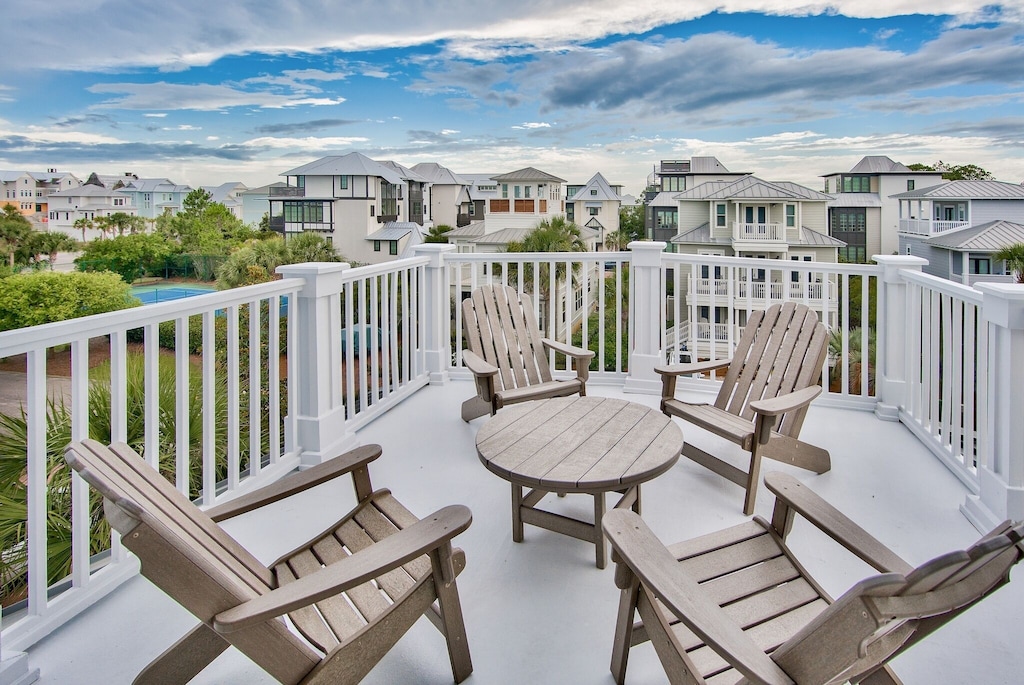 BeachMe!~Gulf Views~30A~Short Stroll to Beach
Seagrove Beach, Florida
House, 3 Bedrooms + Tower, 3 Baths, (8 maximum guests)
Welcome to BeachMe! Located in Dunes Estates, a quaint 12-home community, on the south (beach) side of Highway 30A. This beautifully furnished beach home is ready for you…. to relax and enjoy. The private, heated community pool and tennis courts are steps from your door. A short stroll and you are on the beautiful white sandy beaches and emerald waters of the Gulf of Mexico.
Read More

The first floor features the living room with a large TV. The well-equipped kitchen and dining area offers seating for 6, a breakfast bar with additional seating , granite counter tops, stainless refrigerator with ice maker, dishwasher and microwave. The ground floor bedroom has new queen bed and its own bath. There are plantation shutters throughout the house.
The large master suite (king) and guest suite (queen) are on the second floor. Each features its own private porch ~ perfect for morning coffee and beautiful views. Both bedrooms have private baths. The master bath is brand new and has a large walk in shower and double sinks. Washer and dryer are located in a hallway closet.
You will spend hours enjoying the stunning views, sunsets and evening stars from the third floor tower room deck! The wet bar has its own refrigerator. The third floor tower room has a twin size day bed and twin size built in bunks.
Cheerful bedding throughout and new flooring too.. The living room and all bedrooms have TV's. There is ample parking.
Everyone in the group will enjoy the private, fully enclosed, outdoor, hot and cold shower! Perfect after a day at the beach.
Many restaurants can be found close by. Golf courses and shopping of all types. There is something for everyone. Bike to The Hub ~ the newest hot spot on 30A!
Location! Location! Location! Spend the day on the beach or relax with a book. Once you have your fill of the beach, take a dip in the pool or relax on one of the five porches and decks. You are only minutes away from the towns of Seaside and Rosemary Beach, where shopping, strolling and dining await. There are outdoor concerts and movies in the summer. Art and wine festivals, too !
Bring your kayak or canoe and enjoy a day boating via the nearby boat ramp access on Eastern Lake. This access is paved and offers a beautiful park and barbecue area for family and friends to enjoy.
Play a round of golf in the morning at one of the many nearby top rated courses or spend an afternoon visiting local shops and restaurants. Fisherman and kayakers will enjoy the variety of the ocean and adjacent lakes. The best of both worlds. Finish off the day by enjoying the fiery sunset from the tower deck. Grill your favorite dinner while the kids play. It is all here and waiting for you at BeachMe !
30A features a 19 mile paved bike path. Walk, run, or bike! Relax at BeachMe!
Nearby:
Santa Rosa Beach – Blue Mountain Beach – Grayton Beach – WaterColor – Seaside – Seagrove – WaterSound – Alys Beach – Seacrest – Rosemary Beach – Inlet Beach.
Guests must be at least 25 years old. Rentals are Saturday-Saturday only Spring and Summer.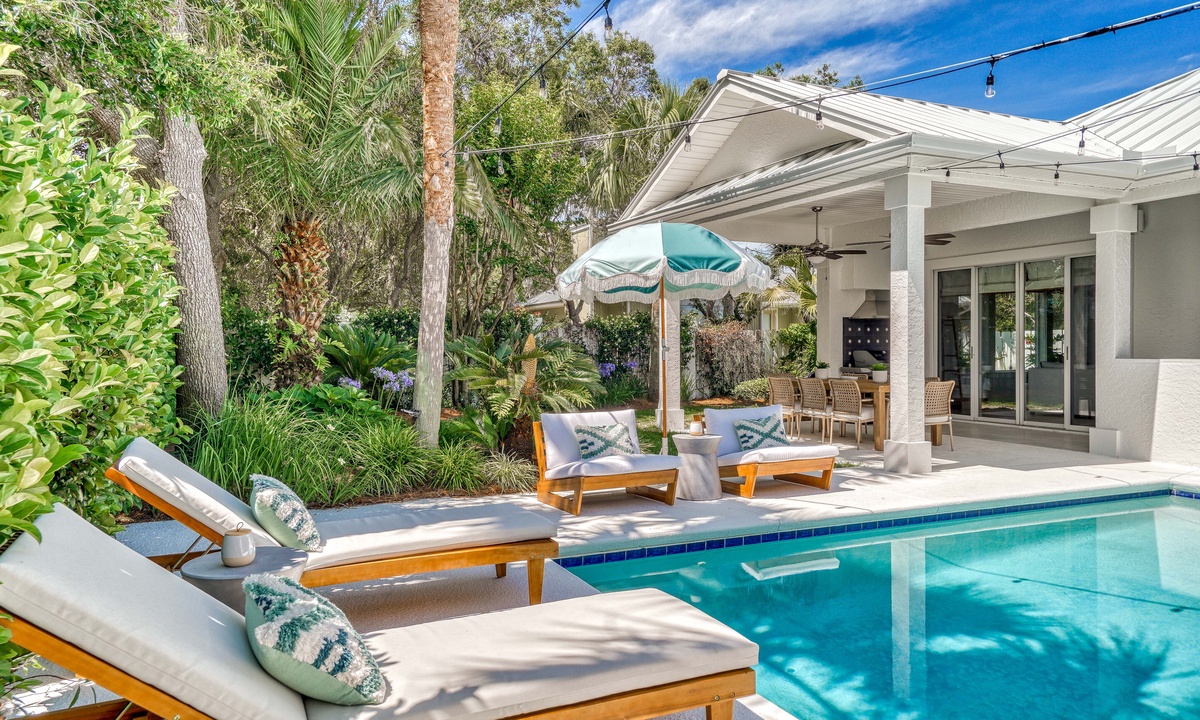 Emerald Coast Oasis
Panama City Beach, Florida
House, 4 Bedrooms, 3 Baths, (14 maximum guests)
Step into 'Emerald Coast Oasis' and you will quickly recognize the reason for the name! This spacious single level home has everything you need and more! The inviting living room, dining and kitchen areas are all open to the pool with floor to ceiling windows and sliding glass doors to bring the two spaces together.
Read More

The chefs kitchen is a showstopper with a huge fridge and freezer, double wall ovens, six burner gas stove, microwave and dishwasher. Additionally there are two sinks and two kitchen islands, one island has seating for five. A wet bar with a wine fridge is off to the side of the kitchen. The farmhouse style dining table can seat up to 8 guests while also being able to see the pool and patio.
Step out to the pool deck where you will find an outdoor kitchen including a gas grill, sink, and mini fridge. The outdoor dining table seats eight and is covered. Enjoy the private outdoor pool and fenced in backyard, to the side of the yard you will find an outdoor shower to rinse the sand off before making  a splash in the pool!
The master bedroom is fit with a king size bed, smart TV and a private en suite. The en suite has two sinks, Jacuzzi tub and a glass enclosed shower with a rain shower head. You can also walk out to the pool and patio from the master suite. Off the dining room are two guest bedrooms, one has a queen size bed and the other has a king size bed with a en suite. The en suite has a single sink and standing shower with retro black and white tiles. Additionally at the front of the house is a queen size guest room for more sleeping arrangements.
Down the hallway is the bonus room with two custom built bunks, both twin over twin. A smart TV, queen sleeper sofa, and two love seats complete this fun kids hangout area! Sliding glass doors allow access to pool deck and back patio.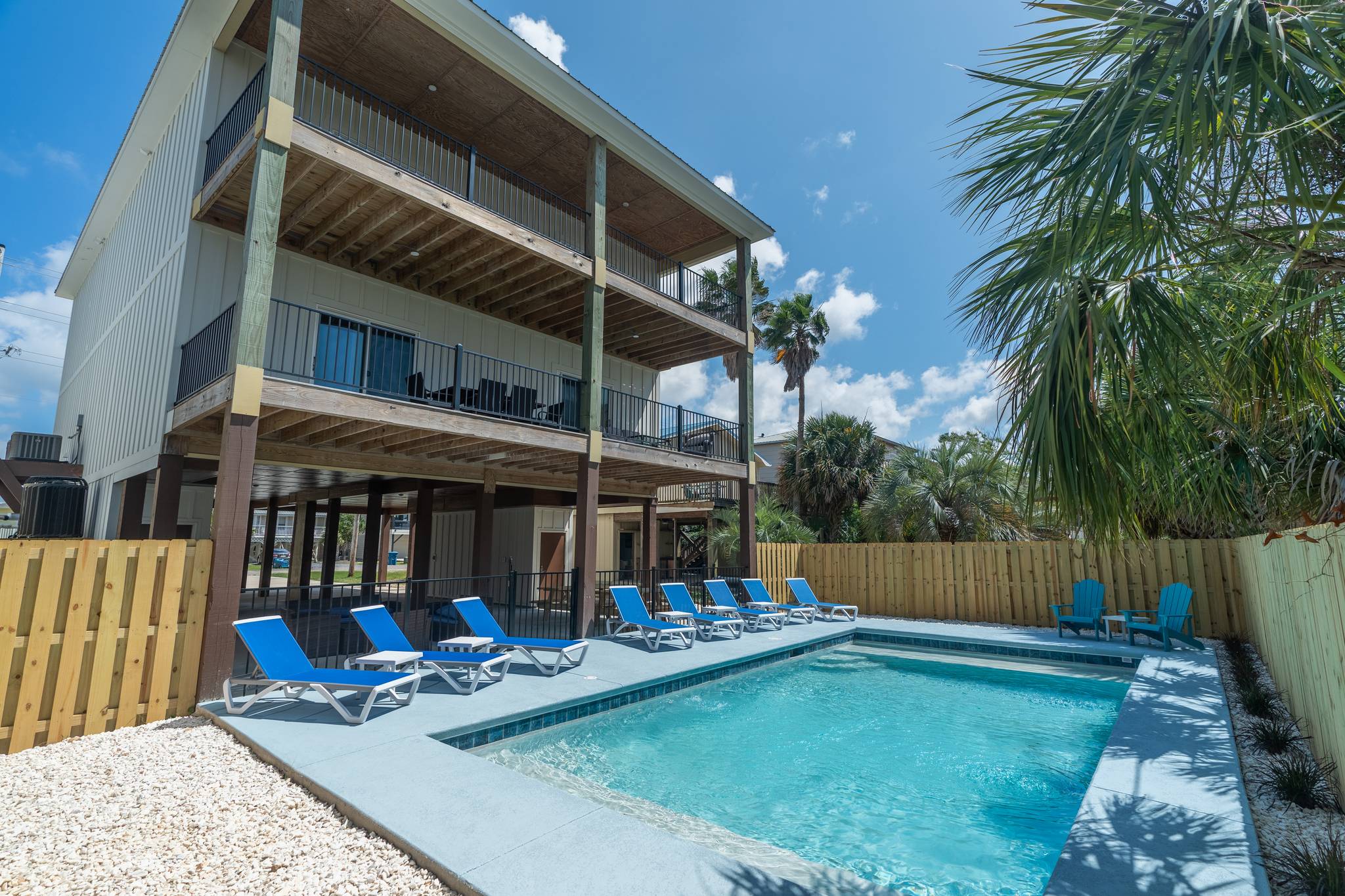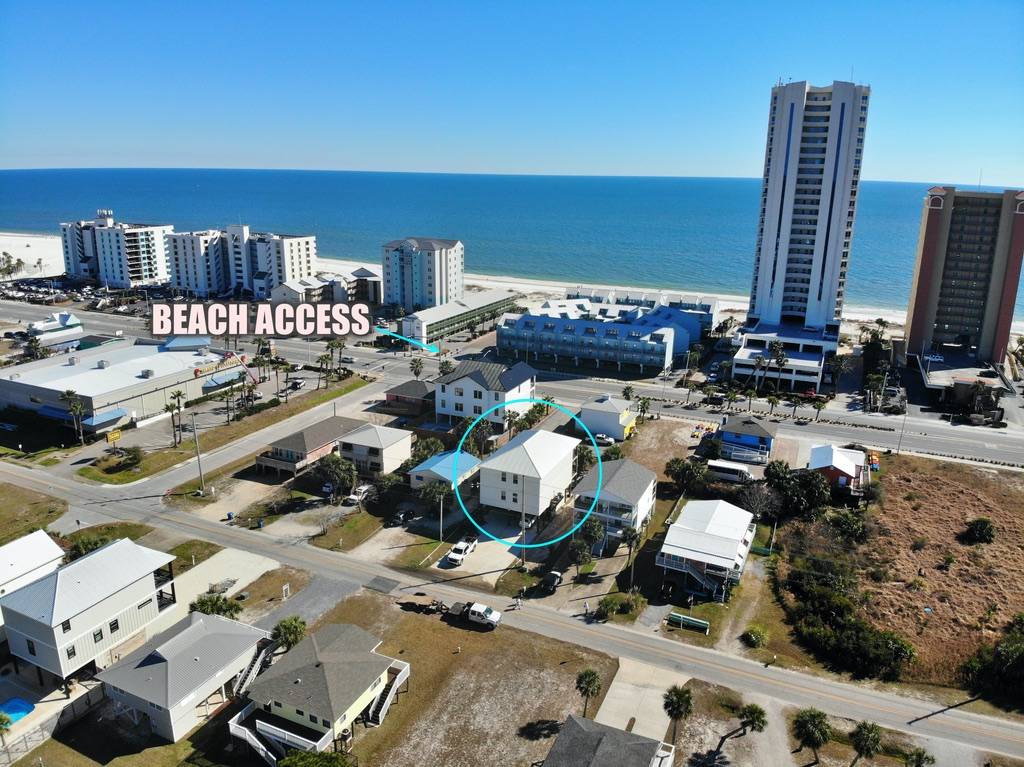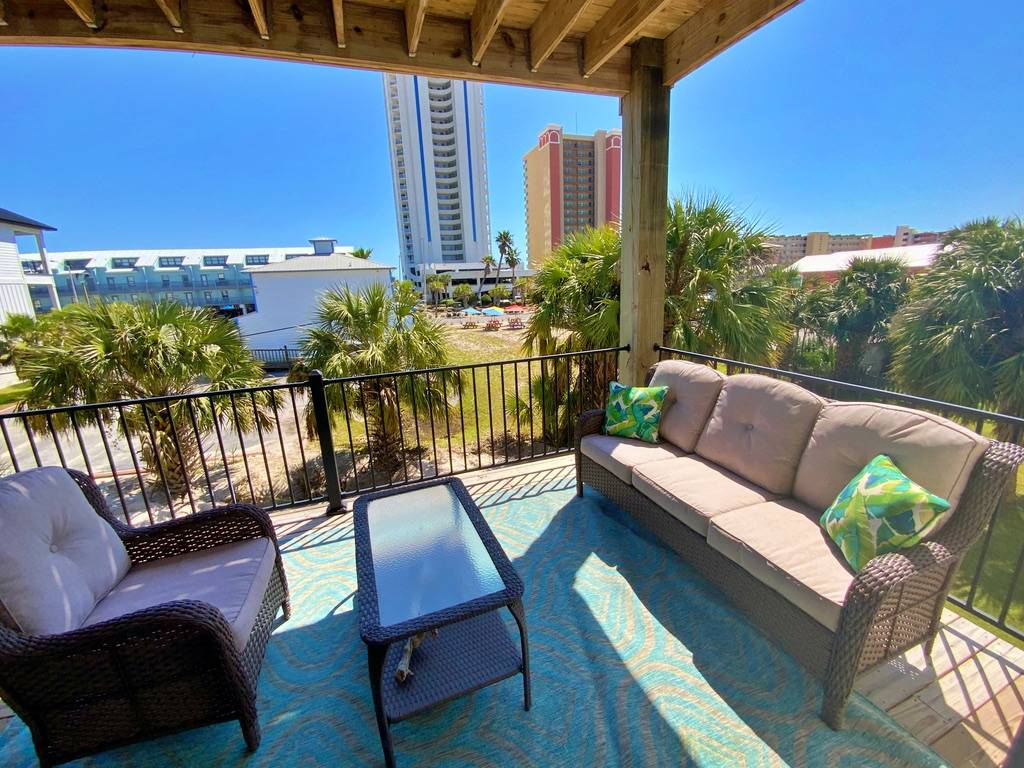 Casablanca on West Beach
Gulf Shores, Alabama
House, 6 Bedrooms, 6 Baths, (20 maximum guests)
This home features a private pool and just became available so book now!
This custom-built home offers twice the fun! With two full kitchens and two master suites, Casablanca is the perfect beach house for a large family, or two families that like to travel together, but want their own space. It has a large living room with recliners and a large flat screen TV – perfect for a movie night or the big game. The dining room is also supersized so there is plenty of room for the whole gang.
Read More

here are 3 bedrooms and 3 bathrooms on each side of this unique home. The bedrooms on each side can be accessed by one of two staircases, but you can go between each side by way of the upstairs balcony. In all, Casablanca will comfortably accommodate up to 20 guests.
Pool could possibly be heated for an additional cost.
Bedroom 1 – King
Bedroom 2 – King & Queen
Bedroom 3 – King & Bunk (2-twins)
Bedroom 4 – King & Bunk (2-twins)
Bedroom 5 – Queen & Bunk (1-full 1 twin)
Bedroom 6 – Full sleeper sofa
You'll love Casablanca's central location. You're just a short walk from the beach and several restaurants and shops. Bahama Bob's is just 0.1 miles away and The Hangout is 0.5 miles away. This home promises to be a favorite for The Hangout Music Festival and The Shrimp Festival. Location! Location! Location!
* available to families and non-family groups over the age of 25.
* 3400 square feet
Bahia 4329
Miramar Beach, Florida
Condominium , 1 Bedrooms, 1 Baths, (4 maximum guests)
This lovely one-bedroom vacation rental condo provides a perfect place for a romantic getaway for two or a small family of four. It is located with-in the gates of Sandestin Golf and Beach Resort on the third floor of Bahia, a waterfront condominium nestled on the beautiful Choctawhatchee Bay. This golden Americana-styled building resembles a charming setting you might have expected to see in the late 1800s, although filled with 21st-century creature comforts. A large lagoon-shaped swimming pool with an expansive sun patio features lush tropical adornments and an island with two palm trees in its center. Lounge chairs facing the pool and tables invite you to enjoy the warmth of the sun while sipping upon your favorite drinks. A round pool next to it is perfect for the kids. Two hot tubs are nearby, providing plenty of room to enjoy bubbling relaxation. A complimentary beach tram can whisk you across the gorgeous resort grounds from the pool to the sugary shoreline in no time at all.
Read More

Bahia 4329 has a crisp, coastal style with comfortable furnishings and plenty of windows for natural light and stunning bay views. The dining area includes six white cottage-style chairs around a honey-toned rectangular hardwood table beneath a suspended circular straw woven chandelier. Sliding glass doors nearby invite you to enjoy the breezy bay views on the furnished balcony. Here, outdoor entertaining is easy with two straw woven chairs and a table for drinks and grazing upon a delightful cheese board. Back indoors, the open living room includes a cozy white couch that conveniently doubles as a queen-sized sleeper sofa. It is flanked by two light green vintage modern high-backed chairs that complete the seating ensemble around a large flatscreen TV for entertainment. Two tropically inspired raised straw woven chairs sit beside a white kitchen bar providing ample space to enjoy drinks and tasty appetizers. The kitchen features a chic, striking look with ebony black appliances and an accent wall of dark palm frond patterned silhouettes.
The master bedroom suite includes a king-sized bed with a unique green tropically-inspired headboard and two bedside tables with elegant emerald-colored base lamps. Sliding glass doors provide direct access to the bay view balcony. An upscale bathroom that doubles as a powder room features two raised oval-shaped porcelain sinks, a partitioned toilet, and a stylish tub shower combination.
This outstanding Sandestin location is near the enchanting Village of Baytowne Wharf, which was inspired by the captivating architecture found in the French Quarter of New Orleans. This clean, safe, Disneyesque version is quite idyllic. The village straddles a lovely bayfront lagoon providing a setting with lots of good restaurants, bars with live music, specialty shops, outdoor concerts, fun festivals, unique family amusements, and vibrant seasonal firework displays. A long wharf that juts out into the beautiful bay at the end features spectacular sunsets over the water during the summer months and a place to try your luck fishing. This locale is also near Sandestin's Grand Boulevard, with additional restaurants, shopping adventures, and a grocery store.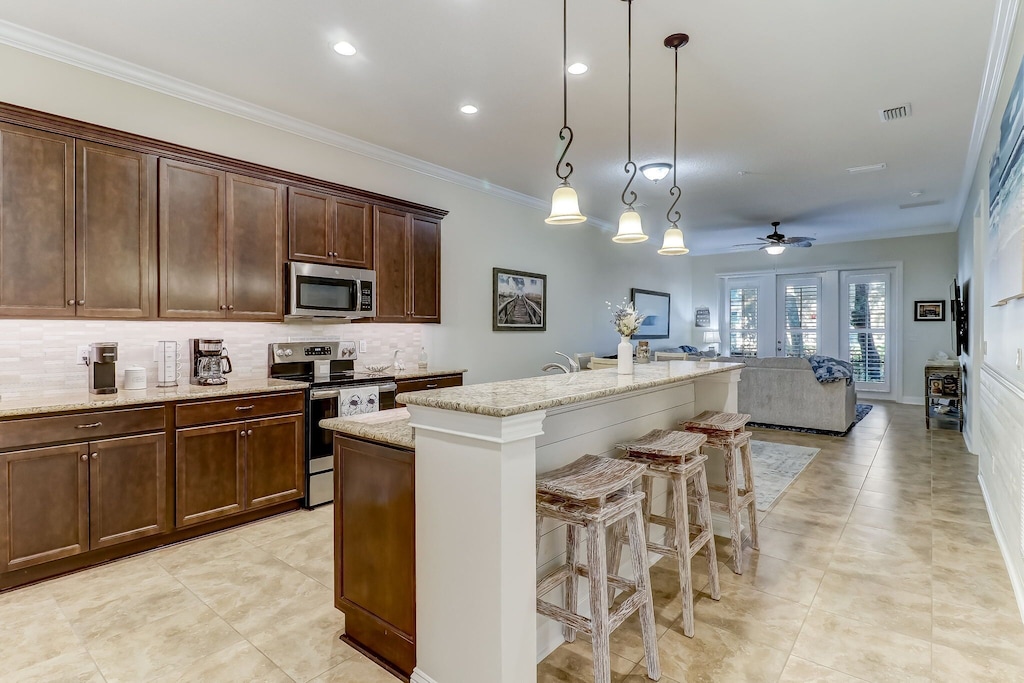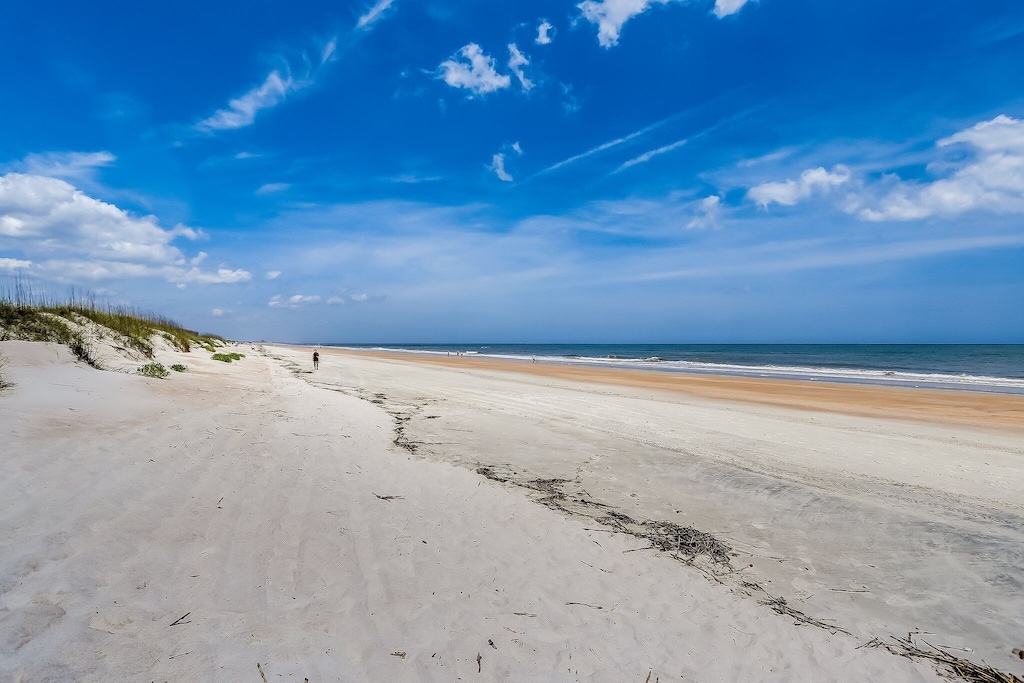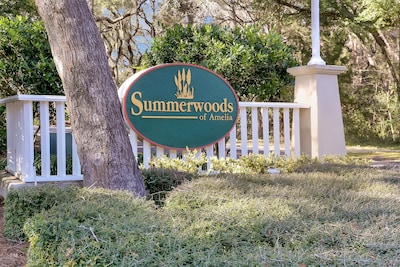 AMELIA ISLAND
American Beach, Florida
Condominium , 2 Bedrooms, 2 Baths, (6 maximum guests)
Welcome to the Beach Bunny! This is a brand-new rental in beautiful Ameilia Island. There is plenty to do here from walking on the trails, biking, swimming, golfing, boat tours, shopping, state parks and there are many fabulous restaurants.
Read More

We initially bought this condo as a vacation home. After a couple of months of visiting, we fell in love with the area and bought a bigger condo to live in full time, deciding to turn this condo into a rental. We have traveled so much throughout the years, we felt we had a good grasp of what makes for a good vacation rental. We always hated renting places that had no basic supplies like bottled water, spices, or coffee. When our kids were younger, it was painful to bring all the beach accessories with us, so we would end up buying a lot of stuff we only needed for the one week. Because of our past experiences, we decided we were going to make our condo a true beach vacation home with all the amenities you need!
This condo is not on the beach but is only a 6 min walk (0.3 miles to the beach). We are on the southside of the island between the Ritz and Omni. The path to the beach is covered by big trees and is very shady. Our community is very quiet and peaceful. We have a large community pool which is seldom crowded.
DEEP CLEANING DONE before each stay. Our condo is always clean, guaranteed!
Our condo is designed for families, but anyone is welcome!